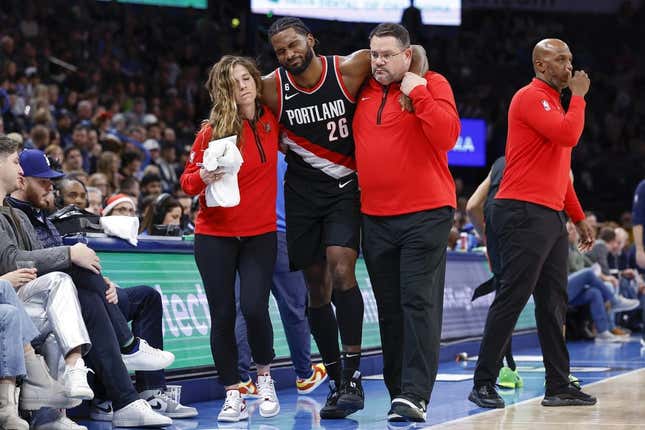 Portland Trail Blazers forward Justise Winslow had successful surgery on his left ankle on Wednesday, the team announced
Air Jordans are more American than McDonald's French fries | Deon Cole's Ultimate Sports Fantasy
The surgery, at Atrium Health Mercy in Charlotte, N.C., addressed joint instability. Winslow is expected to make a full recovery and should be ready for the 2023-24 season.
Winlsow, 27, sprained his ankle in a 101-98 loss to the Oklahoma City Thunder on Dec. 21, and sought a second opinion after the All-Star break. He later underwent a bone morrow aspirate concentrate procedure to try to relieve the discomfort in his ankle.
In 29 games (11 starts) this season, Winslow averaged 6.8 points, 5.0 rebounds and 3.4 assists while shooting 40.9 percent from the field.
The Miami Heat selected Winslow out of Duke with the No. 10 overall pick in the 2015 NBA Draft. In 344 career NBA games (128 starts) for the Miami Heat (2015-16 to 2019-20), Memphis Grizzlies (2020-21), Los Angeles Clippers (2021-22) and Blazers, Winslow owns career averages of 8.2 points, 5.1 rebounds and 2.6 assists.
--Field Level Media