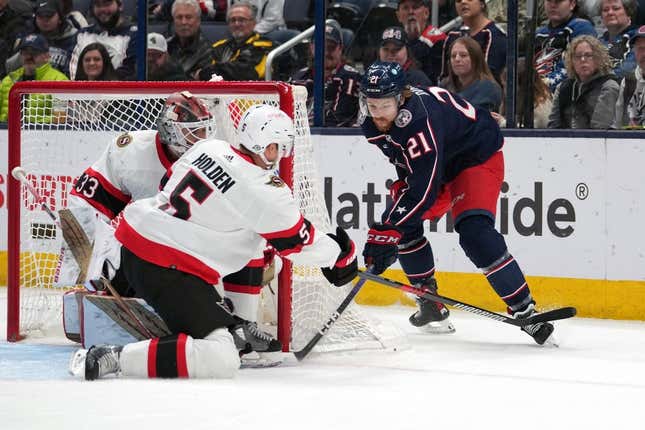 Kirill Marchenko scored 16 seconds into overtime to lift the Columbus Blue Jackets to a 4-3 win over the visiting Ottawa Senators on Sunday
Marchenko scored from the right circle after Johnny Gaudreau forced a turnover.
Kent Johnson, Eric Robinson and Boone Jenner added goals, Marchenko also had an assist and Gaudreau had two assists. Jon Gillies made 24 saves for the Blue Jackets (24-44-8, 56 points), who snapped a four-game slide
Dylan Gambrell, Mark Kastelic and Alex DeBrincat scored for the Senators (37-34-6, 80 points), who have lost three of five as their playoff hopes fade. Cam Talbot made 18 saves
Johnson gave Columbus a 1-0 lead on the power play at 2:41 of the first period. Johnson took a feed from defenseman Gavin Bayreuther at the right face-off dot and briefly held it before sniping one inside the far post.
Gambrell tied it 1-1 four minutes into the game. Erik Brannstrom intercepted Josh Dunne's push of the puck in the neutral zone and jumped up to create an odd-man rush the other way. The defenseman got to the top of the left circle and fed Gambrell driving to the net on the other side for the redirect.
But Columbus regained the lead just five seconds later.
Emil Bemstrom pushed the puck up off the neutral zone face-off and got it over to Robinson, who skated to the left circle and fired a wrist shot that beat Talbot far side on the Blue Jackets' second shot on goal
It marked the fastest two goals by both teams this season.
Kastelic tied it 2-2 from the right circle at 9:26. Gillies lost a skate blade along the right post just before moving across the crease to make a save on Austin Watson. After losing his balance trying to get back in position, grabbing onto the crossbar, he made a save on Tyler Kleven but couldn't properly reset on the rebound that bounced out to Kastelic.
DeBrincat gave the Senators their first lead of the game at 14:46. Ridly Greig won a face-off and DeBrincat was first to the puck, trying to settle it as he took it to the high slot before firing it glove side on Gillies
Jenner tied it 3-3 from the left circle at 14:11 of the third period.
--Field Level Media