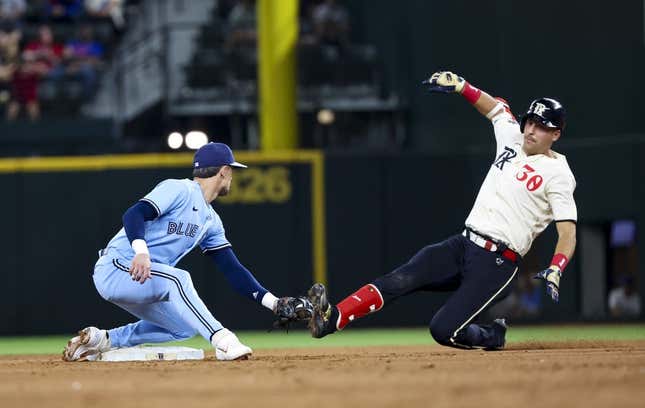 The Toronto Blue Jays continue to find ways to win games when they face the Texas Rangers
How running an NFL team is like running a restaurant | Chef Emeril Lagasse
The Blue Jays won for the eighth time in their past 10 meetings with the Rangers on Friday, holding on for a 2-1 victory on a night they managed just three hits
The Rangers, on the other hand, felt as if they let one get away in the series opener. They went 0-for-9 with runners in scoring position as the trend for untimely hitting continues in the midst of them losing seven of the last nine games
The teams will be back at it on Saturday afternoon in Arlington, Texas, for the middle game of the three-game series. Texas will start right-hander Dane Dunning (5-1, 2.76 ERA), while Toronto's pitching plans remained uncertain.
For the Rangers, it's about getting the offense back to producing at the level it showed early on this season. Texas manager Bruce Bochy said he doesn't feel his team is pressing with runners in scoring position, describing the club's struggles more as a rough patch
"I don't see anything different. They all want to come through, believe me," Bochy said. "We're just going through a very tough little patch here, but I don't think they're doing anything different. ... They want to win. We'll come out of this."
Maybe it will be with Dunning on the mound. The fourth-year hurler will be making his 16th appearance, including his eighth start since stepping into the rotation for an injured Jacob deGrom. In a starting role this season, Dunning is 3-1 with a 3.29 ERA with 13 walks to 25 strikeouts.
Dunning is coming off a no-decision effort on Monday against the Los Angeles Angels, when he allowed four runs (three earned) on six hits with five walks and three strikeouts over five innings.
In three career starts against Toronto, Dunning is 1-0 with a 4.02 ERA. He last faced the Jays on Sept. 9, 2022, getting a no-decision after giving up three runs on seven hits with two walks and five strikeouts over 5 2/3 innings.
Toronto, meanwhile, did not have a starter listed as of late Friday night. There was not much to say about the Blue Jays' offense, either, as the team had only three hits on Friday
Danny Jansen provided one of those hits, a two-run home run in the fifth inning to give the Blue Jays a lead. Jansen had two home runs on Thursday, too. Over his past 18 games, Jansen is batting .277 (18-for-65) with five doubles, six home runs and 17 RBIs
Another storyline to watch with the Blue Jays is when infielder Spencer Horwitz will enter the lineup and make his major league debut. Horwitz was recalled from Triple-A Buffalo on Friday, but he did not see action in the series opener. He was batting .300 with 34 RBIs in 57 games at Buffalo
"I probably haven't stopped smiling for 24 hours now," Horwitz said, according to MLB.com. "This has been a day I've dreamed of. I was never fully sure if it would happen, but here we are."
--Field Level Media