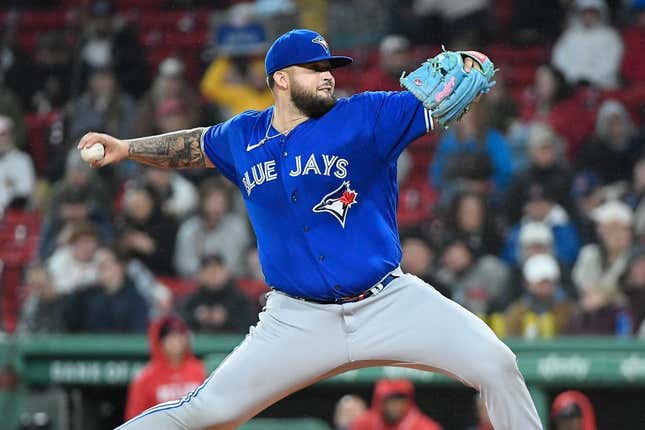 The Toronto Blue Jays hope right-hander Alek Manoah will continue to have success against the visiting New York Yankees when the American League East rivals open a four-game series on Monday night
Bass' ERA stinks, but not compared to who he is off the mound | Worst of the Week Countdown
Manoah (1-3, 4.83 ERA) is 2-1 with a 1.93 ERA in seven career starts against the Yankees
In his most recent outing against New York, Manoah took a no-decision after allowing just two hits in seven scoreless innings on April 22. He walked one and struck out five.
The Yankees have not yet announced who will oppose Manoah
After sweeping the Atlanta Braves in a three-game series to open a 10-game homestand, the Blue Jays now hope to gain some ground in the division, as their next seven games are against AL East opponents. After the series against the Yankees, Toronto opens a three-game set against the Baltimore Orioles
The Blue Jays completed their sweep of the Braves with a 6-5 victory on Sunday. Danny Jansen provided some late heroics with a two-run, walk-off single in the bottom of the ninth
"This team's resilient," Jansen said. "We're looking to win every game, and we believe that we can with the bats and the staff we have."
Toronto manager John Schneider liked what he saw from his team over the weekend, too, but knows there is still room for improvement.
"Winning at this level is hard and winning against a team like (Atlanta) three games in a row is really hard," Schneider said. "You take it, for sure, you always take a win, but I think you have to reel guys back in a little bit starting (Monday) and say you know there are things that we need to tighten up."
The Yankees are coming off a split of a four-game home series with the major-league-leading Tampa Bay Rays
Tampa Bay salvaged the split with an 8-7 victory on Sunday afternoon.
The Yankees completed a 5-2 homestand. They are 8-4 in their past 12 games
"Disappointing to not finish it off (Sunday), but I feel very pleased with where this group is at," New York manager Aaron Boone said.
The Yankees bullpen has an ERA of 3.20 following their game on Sunday, which ranked fourth best in the majors despite being hit by injuries and having roles still being sorted out
"The good part about it is, I feel like we got a lot of really good options," Boone said before the game on Sunday. "And obviously we've used Michael King carefully here early in the season and using him in length so more often than not there's been a lot of days where he's been down, so that factors into things.
"But really, trying to get these guys in parts of the lineup where we feel like they would be the most successful. ... At its best, those guys down there not only are really good but also complement each other with different looks."
Blue Jays first baseman Vladimir Guerrero Jr. was 2-for-5 with two RBIs on Sunday. He has reached base safely in each of his past 19 games and is batting .293 (22-for-75) with nine doubles, four homers and 15 RBIs during that span
Yankees first baseman Anthony Rizzo was 1-for-3 with a two-run home run on Sunday. He leads the Yankees with nine homers, including three in his past three games. He has reached base safely in 13 straight games and is batting .373 (19-for-51) with four homers and nine RBIs over that stretch
--Field Level Media