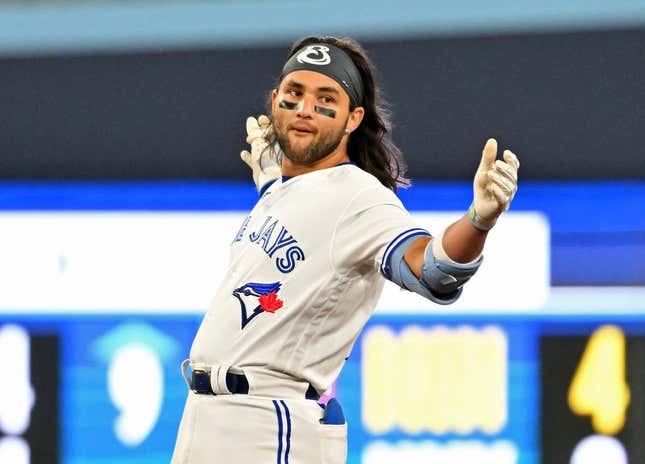 Fresh off ending the visiting Tampa Bay Rays' historic, season-opening, 13-game inning streak, the Toronto Blue Jays can clinch the three-game series on Saturday afternoon
Aaron Rodgers should go full Joe Namath | Comedian Bert Kreischer
The Rays, who were the third team since 1900 to go 13-0 to open a season, lost 6-3 to the Blue Jays on Friday night
Only the 1982 Atlanta Braves and the 1987 Milwaukee Brewers also had won their first 13 games of their season in the modern era. The 1884 St. Louis Maroons began their campaign 20-0.
Blue Jays manager John Schneider said, "Guys are excited to play big series. You pay attention to what the Rays did the first 13 games, but we're solely focused on winning the series.
Bo Bichette was 5-for-5 with two doubles for Toronto in the series opener. George Springer led off the bottom of the first with a home run, and the Blue Jays never looked back
Toronto will start left-hander Yusei Kikuchi (1-0, 6.75 ERA) on Saturday. He faced Tampa Bay three times last season (two starts) and went 1-0 with a 2.45 ERA. In five career outings (four starts) against the Rays, he is 3-0 with a 1.88 ERA
Right-hander Calvin Faucher (0-0, 4.50 ERA) will be the Rays' opener. He has pitched four times this season, all in relief. Faucher has opposed Toronto twice, both times as a reliever last year, and he pitched a total of three scoreless innings
Bichette recorded his 500th career hit with an RBI double in the second inning on Friday, reaching that plateau faster than any other Blue Jay. Bichette took 407 games, while Vernon Wells and Shannon Stewart each needed 432.
Springer socked his first leadoff homer of the season, the 53rd time in his career that he began a game with a long ball. He is tied for third on the all-time list with Craig Biggio, trailing just Rickey Henderson (81) and Alfonso Soriano (54). He ran his hitting streak to eight games (10-for-35, .286) with three homers and five RBIs.
The Blue Jays scored four runs in the fifth inning to take a 6-1 lead. Two runs scored on bases-loaded walks by Tampa Bay reliever Colin Poche, and two more scored when second baseman Brandon Lowe muffed the catch on a potential double-play grounder
"Not much went our way tonight," Rays manager Kevin Cash said
Lowe said, "Losing always sucks. There's no loss that feels any worse or any better than any other ones. You kind of put them all in the same kind of category, you know? Every win is great. Every loss is terrible."
Former Rays center fielder Kevin Kiermaier went 2-for-4 in his first game against his old team. He already has five multi-hit games for the Blue Jays, and he endeared himself to Toronto fans when he saved a home run with a leaping catch on Opening Night
"It has been great," said Kiermaier, who signed as a free agent in December. "I love it here. I just want to give Toronto and Canada my best and make the best year possible. It's a nod to all the players and coaches and fans that I've felt the love from the get-go, and that's when I'm at my best."
Rays left-hander Jeffrey Springs, who left his start on Thursday with what was described as ulnar neuritis, could be out at least two months, according to multiple media reports
He had an MRI exam on Friday and was undergoing further examination.
"I'm confident he's not going to be on the mound anytime soon for us," Cash said.
The Rays did not immediately place Springs on the injured list. They did recall right-hander Yonny Chirinos, who then tossed 3 2/3 scoreless relief innings at Toronto on Friday, and optioned right-hander Braden Bristo to Triple-A Durham
--Field Level Media