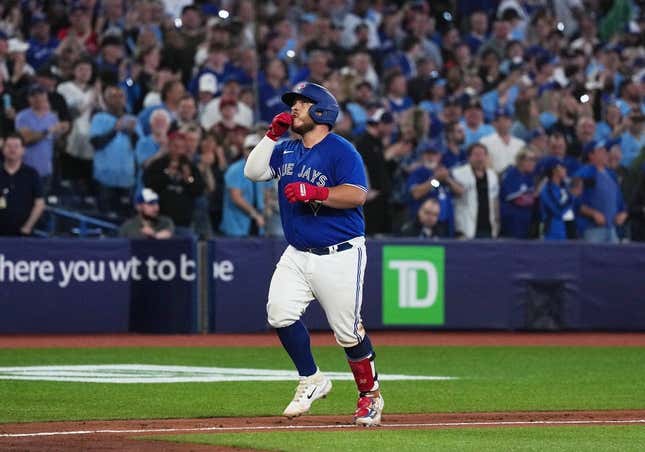 Right-hander Kevin Gausman will receive his first experience pitching in the Toronto Blue Jays' reconfigured home park on Wednesday night when the Detroit Tigers pay a visit
Does Jimmy Butler have the best NBA Finals origin story? | Agree to Disagree
"It's never going to be a pitcher's park, so I think as long as you know that going in, it's not Yankee Stadium -- there's not going to be any cheap homers," Gausman said during spring training. "That's one thing I've always felt about Rogers Centre. Yeah, it's a hitter's park, but usually the home runs you give up aren't nail-biters anyways."
There were six home runs in the Blue Jays' home opener on Tuesday, five by Toronto in a 9-3 victory over Detroit
Alejandro Kirk finished with four RBIs, with three coming on his first home run of the season in the eighth inning.
The other Blue Jays' homers were solo shots by Matt Chapman, Kevin Kiermaier, George Springer and Bo Bichette
Nick Maton hit a three-run homer for the Tigers
With renovations made in the offseason, the park is shorter in right and left-center field, but the fences there have been made higher. It is still 400 feet to center field, but the fence is lower.
That came into play in the second inning when Kiermaier timed his jump perfectly at the wall to rob Kerry Carpenter of a home run.
"These guys believe in me, and they're bringing the best out of me," Kiermaier said." I just want to give it right back."
"He's like Spider-Man out there," said Toronto starter Alek Manoah, who admired the catch from the mound. "He's all over the place."
"Kiermaier, every time we see him play, he makes a difference," Tigers manager A.J. Hinch said. "Today he did it on both sides. It was very unfortunate because that would have changed the whole direction of the game.
Gausman (1-1, 0.00 ERA) will start Wednesday's game against Tigers left-hander Eduardo Rodriguez (0-2, 6.30)
In nine career appearances (all starts) against the Tigers, Gausman is 2-2 with a 3.42 ERA
Rodriguez owns a 5-6 record with a 5.20 ERA in 17 career outings (16 starts) against the Blue Jays
While the Blue Jays have won six of their last seven games, the Tigers have dropped five in a row
The news got worse for Detroit after Matt Manning sustained a fractured fifth metatarsal of his right foot on a comebacker that resulted in the final out of the sixth inning. Hinch revealed the injury after the game.
Kirk's comebacker deflected off Manning's foot to first baseman Spencer Torkelson, who threw to the pitcher to get the out.
"It's a freak accident, can't do anything about it," Manning said. "I'm trying to think maybe I'll give it a week off, see how it feels and get back out there. I mean, it's just a foot."
"The score doesn't show how good a game he pitched," Hinch said.
The Tigers took a 3-0 lead in the second against Manoah and left the bases loaded in the inning. Toronto did the rest of the scoring
"They have guys who can hit the ball out of the ballpark, particularly this ballpark," Hinch said.
--Field Level Media