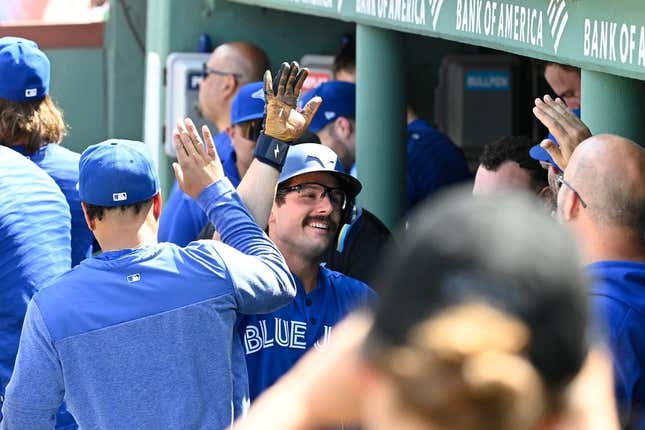 Davis Schneider will try to continue his unprecedented hot streak to begin his major league career when the Toronto Blue Jays open a four-game series against the host Cleveland Guardians on Monday night
How running an NFL team is like running a restaurant | Chef Emeril Lagasse
The 24-year-old second baseman has nine hits, including two home runs, in his first three major league games. The only other player with at least nine hits in his first three big-league contests was Coaker Triplett of the Chicago Cubs in 1938
"Every time I came into the dugout, they're all just clapping, being happy for me and I couldn't ask for anything more," Schneider said after collecting four hits, including a home run, in a 13-1 win over the Boston Red Sox on Sunday, which completed a three-game sweep
Schneider will now look to back left-hander Hyun Jin Ryu (0-1, 7.20 ERA), who the Blue Jays plan to start on Monday in the series opener
Ryu didn't deliver the type of performance he hoped for in his first outing since having Tommy John surgery in June 2022, so he'll look to improve against the Guardians
Ryu surrendered four runs and nine hits in five-plus innings of a 13-3 loss to the Baltimore Orioles last Tuesday. He struck out three and walked one on 80 pitches
Before he could record the first out, Ryu was greeted by two doubles and a single. He wound up allowing two runs in the first inning
He gave up another run in the second inning before getting through the third, fourth and fifth innings unscathed
Ryu eventually departed after surrendering a leadoff home run to Gunnar Henderson in the sixth
"He kind of got ambushed early there in the first inning," Blue Jays manager John Schneider said. "Kind of what we expected navigating a tough lineup. I thought he got better as his outing went on.
Ryu has made three starts in his career against Cleveland and is 2-0 with a 2.84 ERA
The Guardians should be eager to take the field after blowing a late lead against the visiting Chicago White Sox on Sunday afternoon and losing 5-3
Cleveland was one out away from winning the rubber match of the series, but third baseman Brayan Rocchio came up short on his throws to first on back-to-back grounders and first baseman Kole Calhoun couldn't secure either throw, allowing the tying run to score
Elvis Andrus then rolled a two-run single up the middle, giving the White Sox a 5-3 lead that held up
Cleveland will send rookie right-hander Gavin Williams (1-3, 3.38) to the mound in the series opener
Williams has made eight starts this season and the 24-year-old pitched well in the past four, posting a 2.50 ERA, but he's 0-2 in that span
Pitching enough innings to qualify for a victory has been one obstacle, as Williams was limited to four innings in two of his past four starts, despite giving up just one run across those two games
Williams went five innings and allowed two runs in each of the other two starts, but the Guardians were shut out 2-0 both times
In his most recent outing last Tuesday, Williams went up against Framber Valdez of the Houston Astros, and Valdez tossed a no-hitter
Cleveland manager Terry Francona said the Houston game was the best he has seen Williams throw the ball this season
Williams agreed
"We've been going over some stuff," Williams said. "Just fixing some little things in my mechanics.
Williams has not faced Toronto this season
--Field Level Medi