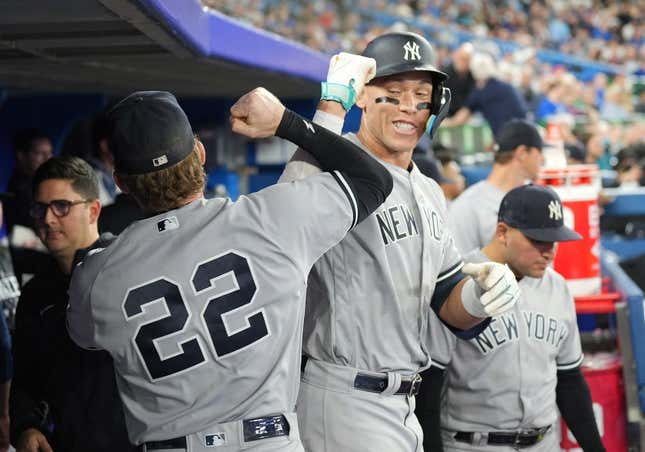 The New York Yankees have been encouraged by their recent play and will be out to continue the trend Tuesday night against the host Toronto Blue Jays
Does Jimmy Butler have the best NBA Finals origin story? | Agree to Disagree
The Yankees won the opener of the four-game series 7-4 on Monday night, with Aaron Judge leading the way with two home runs and three RBIs
The Yankees came to Toronto with positive feelings after splitting a four-game home series with the Tampa Bay Rays
New York lost the finale 8-7 on Sunday, but Judge was encouraged because the Yankees nearly overcame an 8-4 deficit. They had won 9-8 on Saturday after trailing 6-0
"I think we're in a good spot," Judge said. "(The Rays) are one of the best teams in baseball. We battled back and forth. I think this team's coming out of here with a bunch of positive stuff."
The Yankees have won seven of their last 10 games
"(Fighting back) is what this team's made of. We did that a lot last year, had some big comeback victories and this year's no different," Judge said. "We're never out of any ballgame no matter what the score is."
The Blue Jays have also shown the ability to battle back. After trailing 7-0 on Monday, Toronto rallied for four runs in the eighth inning, but their comeback bid came up short
Right-hander Kevin Gausman (2-3, 3.38 ERA) will start for the Blue Jays on Tuesday. Gausman is 9-7 with a 3.32 ERA in 28 career appearances (22 starts) against the Yankees
Gausman will be opposed by fellow right-hander Domingo German (2-3, 4.00), who is 2-5 with a 4.11 ERA in eight career appearances (six starts) against the Blue Jays
The Blue Jays have some concern for right-hander Alek Manoah, who allowed a career-high seven walks on Monday over four-plus innings in taking the loss. He allowed five runs to drop to 1-4
"This game will punch you right in the mouth," Manoah said. "My job is to show up every day and give this team a chance."
Before Judge hit his second home run of the game -- and 10th of the season -- Yankees manager Aaron Boone was ejected by plate umpire Clint Vondrak for arguing about a pitch by Jay Jackson that was called a strike
After the ejection, Judge appeared to be looking into the Yankees' dugout a couple of times before hitting a 462-foot home run
"I saw it," Blue Jays manager John Schneider said. "Kind of odd that a hitter would be looking in that direction. He's obviously looking in that direction for a reason.
Judge said his glances were because he was unhappy with his teammates, who were expressing their displeasure to Vondrak.
"There was kind of a lot of chirping from our dugout, which I really didn't like in the situation," Judge said.
Boone sided with his star player's perception of the situation.
"There was some chirping going from our side when I got thrown out, and then it continued," Boone said. "I think a lot of our guys were still letting them hear it. Judgie was looking over like, 'I'm hitting here.'"
--Field Level Media