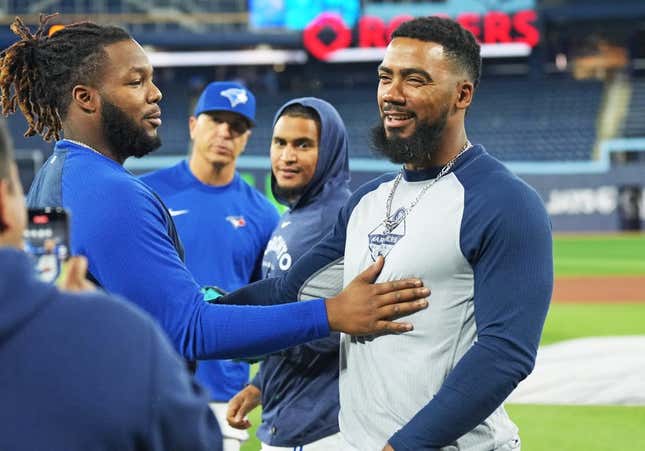 Seattle Mariners right fielder Teoscar Hernandez has another chance Saturday afternoon to forge a happier homecoming against his former team, the Toronto Blue Jays
Hernandez, whom Toronto traded to Seattle in the offseason, struck out three times in going 0-for-4 in a 3-2 loss in the opener of the three-game series Friday night.
He received a warm welcome from the crowd and a video tribute in his first game in Toronto since he hit two home runs against Seattle in Game 2 of the American League wild-card series. The Mariners won the best-of-three series in two games
Getting traded was not a surprise, Hernandez said.
"I was seeing a lot of tweets on social media that it might happen during the offseason. I wasn't thinking it would be that quick, but it happened right away," he said.
"But still, it's something you never expect. Especially me, I was here for six years and spent a lot of time with the boys. But it is what it is. It's a business, and they do the best they can to make the team better. That's the way they feel, so they traded me."
Toronto received right-handed reliever Erik Swanson in the deal, and he pitched a perfect eighth inning with two strikeouts on Friday.
Hernandez is batting .216/.250/.422 with six home runs and 15 RBIs for Seattle.
"We love having Teo as part of our club," Mariners manager Scott Servais said. "Obviously, he means a lot to the Blue Jays and what he was able to do for them. He's a really talented player. He certainly understands the league and who he is. He's added a lot to our clubhouse.
"I've known him for a while," Blue Jays manager John Schneider said. "Homers come to mind Throwing BP to him every day for years, that jumps out to me. He's such a good dude, too. So, there's a lot of (memories) for sure.
Hernandez hit 129 home runs for the Blue Jays
Seattle will start right-hander Chris Flexen (0-4, 8.66 ERA) on Saturday. In three career starts against Toronto, Flexen is 0-1 with a 4.41 ERA.
Toronto will start right-hander Kevin Gausman (2-2, 2.84), who is 1-3 with a 2.74 ERA in eight career games (seven starts) against Seattle.
The Blue Jays have won the first four games of their six-game homestand and have won five straight overall
The Mariners are 1-3 to open a nine-game road trip. They are 3-8 in one-run games this season
"We've been in a number of them and, especially here lately, getting a big hit has been tough for us," Servais said.
Cal Raleigh drove in both Mariners runs on Friday with a solo home run and a single
Alejandro Kirk had three hits for Toronto, including a solo homer.
The Mariners had won seven in a row over the Blue Jays entering Friday, including the two-game sweep in the wild-card series. The Mariners overcame an 8-1 deficit to defeat the Blue Jays in the Game 2 clincher
"You cannot compare the regular season with the way everybody felt in the postseason last year," Kirk said through an interpreter. "But it always feels good to beat a team like that."
The Blue Jays are 5-1 in one-run games this season
Over the past nine games, Toronto starters have allowed seven runs in 57 1/3 innings for a 1.10 ERA.
--Field Level Media