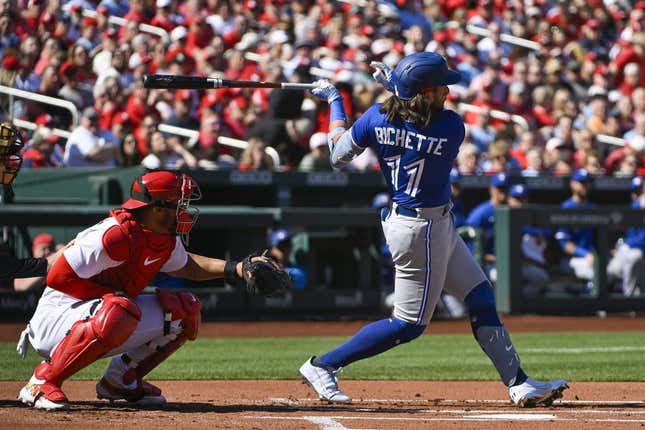 Toronto Blue Jays hitters will try to regroup Sunday, one day after contributing to an exasperating loss to the St. Louis Cardinals
Bass' ERA stinks, but not compared to who he is off the mound | Worst of the Week Countdown
The Blue Jays outlasted the Cardinals 10-9 in their season opener Thursday in St. Louis despite leaving 12 men on base. Then Toronto went 0-for-11 with runners in scoring position Saturday in their 4-1 loss at Busch Stadium
The Cardinals walked 10 batters, hit another and threw a run-scoring wild pitch. But time after time, the Blue Jays failed to capitalize while stranding 12 runners again
Toronto will turn to starting pitcher Chris Bassitt to try to win the rubber contest of the three-game series. The right-hander was 15-9 with a 3.42 ERA last season for the New York Mets.
Bassitt, who is 1-0 with a 4.02 ERA in three career starts against the Cardinals, set working deep into games as one of his key season goals
"I see the true value of depth from a starter," he told The Athletic. "Go talk to any bullpen arm and ask them, who do you want, the five-inning guy or the seven-inning guy. 'Well, the five-inning guy is nasty, but I don't care, we have to eat four innings.' I know how good our bullpen can be, but we can also give them the chance to go off-day, off-day, off-day.
"To me, the teams that are really, really good have the healthiest bullpens. I want our bullpen to pitch because they have to pitch, not because we need them to pitch, if that makes sense."
The Cardinals will counter with starting pitcher Jordan Montgomery, who was 9-6 with a 3.48 ERA in 32 starts last season. The left-hander was 6-3 with a 3.11 ERA in 11 starts for the Cardinals after arriving in a trade with the New York Yankees
Montgomery is 3-1 with a 3.86 ERA in 10 career outings against the Blue Jays, including nine starts
Offensively, the Cardinals have gotten good starts from Paul Goldschmidt (4-for-8, two runs, RBI), Nolan Arenado (3-for-9, two runs, three RBIs) and rookie Jordan Walker (3-for-9, two RBIs)
Also starting well is second-year designated hitter Nolan Gorman, who is 2-for-5 with four walks and two RBIs in two games.
"He's doing a nice job," Cardinals manager Oliver Marmol said. "He's taking at bats, laying off some pitches he would normally go after. That's going to be key
"We're going to rely on his bat in the middle of that order."
Cardinals catcher Willson Contreras (knee bruise), outfielder Lars Nootbaar (jammed thumb) and reliever Giovanny Gallegos (sore back) are questionable for this game after sitting out Saturday with injuries
Andrew Knizner filled in for Contreras Saturday and Alec Burleson replaced Nootbaar in left field.
Contreras suffered his injury when reliever Jordan Hicks hit him in the knee with a pitch.
"Thankfully, it's better than we all thought," Contreras said. "It was really scary. I watched the video, and I ran after the ball, but that was just a reaction. When I squatted down, my whole leg was completely numb. I tried to give it a minute, but when I was squatting down it was completely numb. That's why I was carried out of the ballpark [by a trainer], but 10 or 15 minutes later it started feeling better."
--Field Level Media