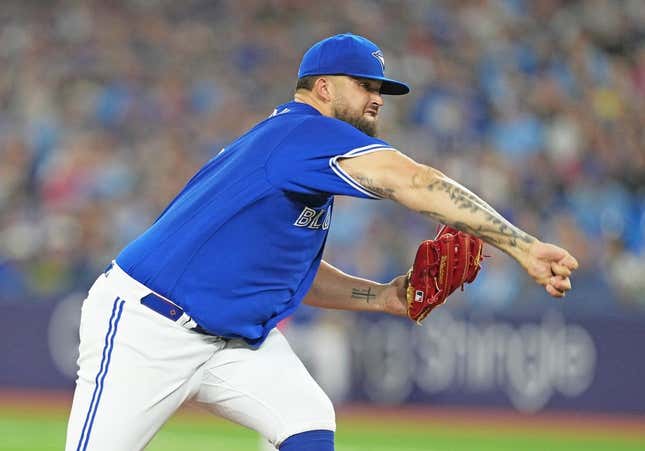 Right-hander Alek Manoah will get the start as the Toronto Blue Jays go for a three-game sweep of the visiting Tampa Bay Rays on Sunday afternoon
Are the Oakland A's a failed state? | Agree to Disagree
Manoah (1-0, 4.91 ERA) will face Rays left-hander Shane McClanahan (3-0, 1.59) in a matchup of staff aces
The Rays took their first 13 games of the season before dropping two in a row to the Blue Jays
In the Blue Jays' 5-2 win on Saturday afternoon, left-hander Yusei Kikuchi pitched six strong innings, allowed one run and striking out nine
"A confident pitcher is a dangerous thing," Blue Jays manager John Schneider said. "That's what he is right now.
Kikuchi was building on past success against the Rays, and Manoah hopes to follow in his footsteps. In six career outings (five starts) against them, Kikuchi is now 5-0 with a 1.80 ERA
In his seven career starts against Tampa Bay, Manoah is 4-2 with an ERA of 1.42 ERA.
McClanahan, meanwhile, is 2-2 with a 2.87 ERA in six starts against Toronto.
The Blue Jays had some concerning moments in the ninth inning when the Rays loaded the bases with one out against closer Jordan Romano
After a strikeout for the second out, the game ended on Wander Franco's sharp comebacker that hit Romano in the area of his right ribs. X-rays of the area were negative
"He's doing OK,'' Schneider said. "He was moving around quite well. I'm glad he made the throw to first. That's a tough play to make, a lot of adrenalin and you get a comebacker hit right at you. Good Canadian boy.
He's tough. We'll check him out and see how he is (Sunday). For now, right rib contusion."
It was Romano's sixth save of the season.
The team also received positive news about right-hander Jose Berrios. He left his start in Friday's eventual 6-3 win after taking a comebacker off his leg on the final out of the fifth. Schneider said Berrios will be available to make his next start.
The Rays have not been so fortunate with injuries to pitchers. They put right-handed reliever Ryan Thompson (right lat strain) on the 15-day injured list Saturday. With the move backdated, he is eligible to return April 28, and he said he expects to be ready
"I think (calling it a) strain might even be a little aggressive," Thompson told the Tampa Times. "I'm just feeling some things here and there, and it's just not getting better as fast as I would like. So, this stint is going to be really short in my opinion. We'll see how it goes. But it's not something that I think any of us are worried about. It's more precautionary."
Right-hander Trevor Kelley was called up from Triple-A Durham and took the loss Saturday when he allowed two runs in two innings in relief.
Thompson is the fourth Rays pitcher sidelined since spring training opened. Left-hander Jeffrey Springs (left arm, elbow) will also go on the IL when the diagnosis is completed
Rays manager Kevin Cash feels the team is in a good position to overcome the injuries
"We saw enough in spring training that we've got plenty of guys that are in Durham on that roster, performing well, pitched well in spring, that can help us," Cash said. "You know coming into the season your depth is going to be tested. Sometimes it comes early. Sometimes it comes late. But we're happy with where we're at."
--Field Level Media