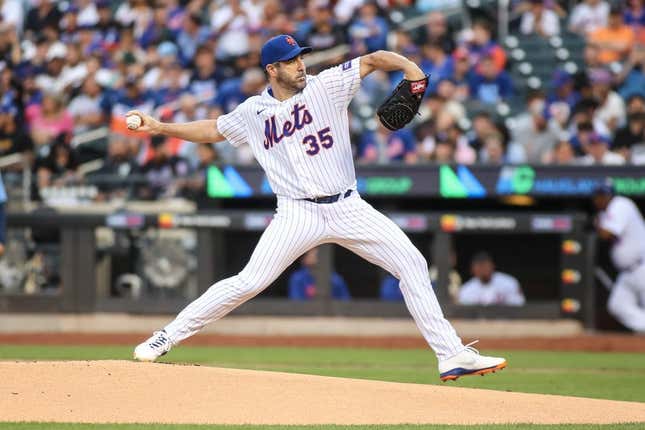 Buck Showalter spoke optimistically of the New York Mets seeking their level after watching his team complete a three-game sweep of the Philadelphia Phillies on Thursday afternoon
How running an NFL team is like running a restaurant | Chef Emeril Lagasse
A few hundred miles to the north, the Toronto Blue Jays offered some signs they are returning to form as well
The Mets and Blue Jays will each be looking to leave their early-season struggles further in the past Friday night, when New York is slated to host Toronto in the opener of a three-game interleague series between the 2022 playoff teams
Justin Verlander (2-2, 4.80 ERA) is scheduled to start for the Mets against fellow right-hander Chris Bassitt (5-4, 3.80), who pitched for the Mets last season
Both teams earned home wins Thursday afternoon. Max Scherzer tossed seven strong innings and Mark Canha hit the go-ahead two-run homer for the second straight game as the Mets beat the Philadelphia Phillies 4-2. Kevin Gausman struck out 11 over 6 2/3 scoreless innings in the Blue Jays' 3-1 victory over the Milwaukee Brewers
The win continued an encouraging stretch for New York, which went 101-61 and earned the top National League wild card last season before opening this season 20-23. But the Mets have gone 10-4 since May 17 -- a stretch that includes back-to-back losses in Colorado last Saturday and Sunday in which they were outscored 21-17 by the Rockies
The Mets showed few ill effects of the Coors Field experience upon returning home to face the Phillies, whom they outscored 10-3 in the three games. Starting pitchers Scherzer, Kodai Senga and Carlos Carrasco combined to post an 0.90 ERA while Canha and Francisco Lindor combined for three homers
"You are who you are and you seek your level," Showalter said. "The pitching we've gotten the last three games certainly makes a difference."
The Blue Jays, who were the American League's No. 1 wild card last year after finishing 92-70, haven't been below .500 this season since they were 2-3 on April 4. But Toronto lost footing in the competitive AL East -- where every team has a winning record -- while going 11-17 in May
The Blue Jays have played in a more complete manner in earning consecutive series wins against a pair of division-leading teams, the Brewers and Minnesota Twins, whom they outscored 25-17
Toronto scored nine runs without the benefit of a homer in the first two games against Milwaukee before Bo Bichette hit a solo homer and Matt Chapman added a two-run shot in the first inning Thursday to account for all of the Blue Jays' runs
"There are different ways that we're built to score home runs," Blue Jays manager John Schneider said. "But you ignore the fact that we've got guys up and down the lineup who can do some damage.
Verlander didn't factor into the decision last Saturday, when he gave up six runs over five innings as the Mets fell to the Rockies 10-7. Bassitt took the defeat Saturday after surrendering seven runs in four innings as the Blue Jays lost to the Twins 9-7
Verlander is 4-6 with a 4.29 ERA in 15 career starts against the Blue Jays. Bassitt, who went 15-9 with a 3.42 ERA in 30 starts last year for the Mets, has never opposed New York
--Field Level Media