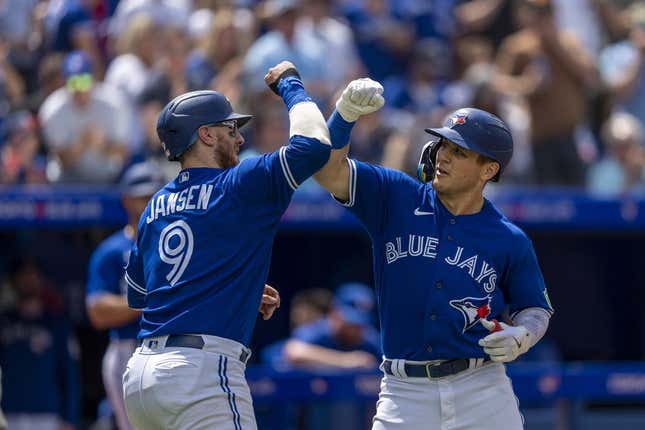 The Toronto Blue Jays regained their ability to hit with runners in scoring position Sunday and aim to continue the trend Tuesday night against the visiting Philadelphia Phillies.
How running an NFL team is like running a restaurant | Chef Emeril Lagasse
The Phillies, meanwhile, will enter the upcoming two-game series at Toronto after scoring a total of one run in two straight home losses to the Minnesota Twins.
The Blue Jays, who rank 22nd in the majors with a .247 batting average with men in scoring position, went 8-for-17 in that spot Sunday in an 11-4 win over the visiting Chicago Cubs. They still stranded 12 runners.
The Blue Jays had been struggling to get hits when needed while losing to the Cubs on Friday and Saturday after splitting a four-game road series with the Cleveland Guardians. The series at Cleveland blunted the optimism created by a three-game sweep of the Boston Red Sox to open the trip.
Daulton Varsho led the Blue Jays on Sunday with a career-best five RBIs, three on a home run and two on a single.
"We ran into a Cleveland team that pitched us really tough," Varsho said. "They had good pitching, and we just didn't capitalize when we needed to. But I thought the Boston series we did great, and this series we did fine. Obviously, winning (Sunday) was a big thing going into (Monday's) off day and being able to enjoy it."
Varsho has played well in the outfield but his offense has been a disappointment this season. The past 10 games have been encouraging, though, as he is batting .281 (9-for-32) with eight RBIs in that span.
Whit Merrifield continued to produce with four hits for the Blue Jays on Sunday.
"It's what this lineup is capable of," Blue Jays manager John Schneider said. "When you're getting production at the bottom and turn it back over to the top, you see what happens."
Blue Jays hitters will be challenged Tuesday by Phillies right-hander Zack Wheeler (9-5, 3.74 ERA).
Wheeler held the Blue Jays to one run and three hits over seven innings May 10 but did not factor in the decision as the Phillies completed a two-game sweep at Philadelphia. In five career starts against Toronto, he is 0-2 with a 5.19 ERA.
Toronto is scheduled to start left-hander Yusei Kikuchi (9-4, 3.53), who will be facing the Phillies for the first time.
The Phillies completed a 6-4 homestand. losing 8-1 on Saturday and 3-0 on Sunday to the Twins in the final two games.
"We're still playing good baseball," Phillies manager Rob Thomson said. "We've just got to get it going again in Toronto."
Phillies shortstop Trea Turner singled in the ninth inning Sunday to extend his hitting streak to 10 games. The streak started when Turner, who has struggled during most of the season, received an ovation of encouragement from Phillies fans during the opening game of the homestand.
Turner was 17-for-39 (.436) with six doubles and two homers on the homestand. His work with hitting coach Kevin Long could be paying off. And the ovation might also have been a factor.
"Maybe it's the crowd; maybe it's a little bit better swing; maybe it's better pitches; maybe I'm relaxed," Turner said. "I don't know if there's one specific thing. I think just everything, as a whole, is in a better direction."
—Field Level Media