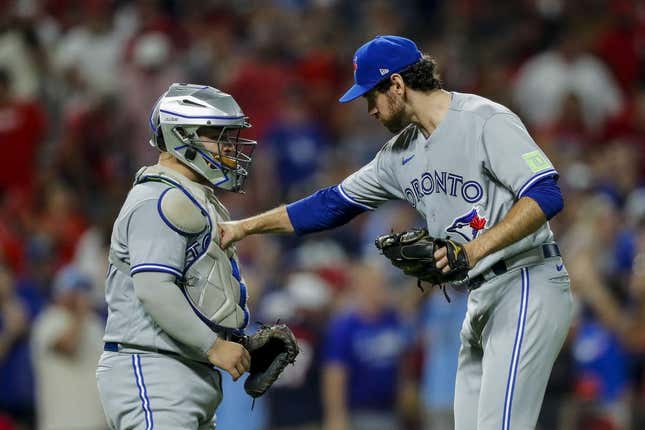 The Cincinnati Reds and the visiting Toronto Blue Jays will meet in the rubber match of a three-game series on Sunday afternoon.
How running an NFL team is like running a restaurant | Chef Emeril Lagasse
The teams have split one-run decisions. Cincinnati recorded a 1-0 victory in the series opener on Friday before Toronto bounced back with a 4-3 win on Saturday.
The Blue Jays will turn to Hyun Jin Ryu (1-1, 2.57 ERA) to start Sunday's game. He will make just his fourth start of the season after being sidelined with an elbow injury.
The left-hander has had his share of success against the Reds, boasting a 5-2 record with a 3.23 ERA and 47 strikeouts in eight career starts (47 1/3 innings).
For Toronto, Friday's game saw the return of outfielder Kevin Kiermaier, and Saturday's game saw the return of All-Star Bo Bichette.
Kiermaier returned after a quick stint on the injured list but went 0-for-3 in the series opener.
Bichette, on the other hand, had an instant impact in his return, notching an RBI single in the fourth inning. Before the game, he emphasized how he wanted the team to play going forward.
"We need to be fearless," Bichette said. "I don't think any team accomplishes anything special by not being fearless, so I think we just need to be fearless. Go out there, play our game, be aggressive and get after it. That's how I want to lead, and that's how I'll try to lead by example now that I'm back."
The Reds reside three games behind the National League Central-leading Milwaukee Brewers. Cincinnati will embark on a 10-game road trip after Sunday's contest.
The Reds on Sunday will turn to right-hander Hunter Greene (2-4, 3.93 ERA), who will be activated from the 60-day injured list. Greene has been sidelined with an ailing hip.
Greene has faced the Blue Jays once in his career. He allowed one run on four hits in six innings in a no-decision on May 21, 2022.
Saturday marked the debut of another promising Reds rookie as Noelvi Marte made a short yet impactful appearance. Marte, 21, came on as a pinch runner in the bottom of the ninth inning and participated in a successful double steal of second and third with fellow rookie Christian Encarnacion-Strand.
Elly De La Cruz, another Reds star rookie, made more magic in Saturday's game. He turned what could have been a stand-up double for most into a little league home run thanks to a throwing error from outfielder Cavan Biggio. He was able to round the bases in just 15.3 seconds.
"I was looking to see if they were going to send (Matt) McLain home, and when I saw they did, I knew I had to go," De La Cruz said through an interpreter. "I was running hard to third base, and once I saw that ball go in the middle of nowhere, I knew I would have to run hard to get to home."
De La Cruz is 2-for-6 with a double, triple and two walks in the series.
—Field Level Media