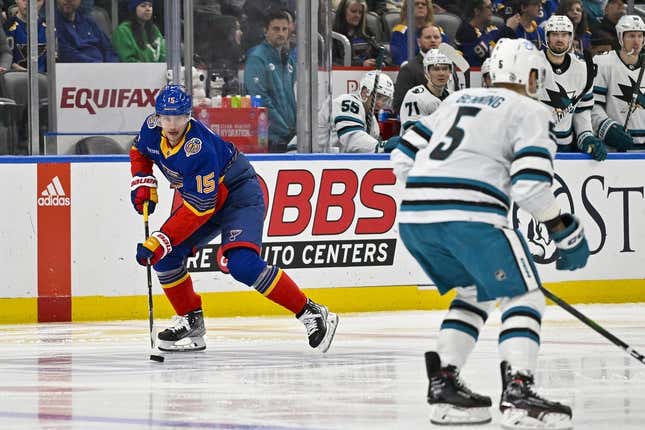 The retooling St. Louis Blues and Columbus Blue Jackets are trying to get a head start on the 2023-24 season during the final quarter of this season.
Is Texas or Florida State a bigger national title contender? | Agree to Disagree
Their experimentation will continue Saturday when the Blues face the Blue Jackets at Nationwide Arena in Columbus.
The Blues have won just two of their last 10 games and the Blue Jackets have just two victories in their last eight games.
Extensive moves ahead of the NHL trade deadline left the Blues with a second forward line of newcomers Kasperi Kapanen and Jakub Vrana flanking Pavel Buchnevich, a veteran winger getting a look at center.
"I think I'm an offensive player, so I can create more offense," Vrana said after scoring a goal in his second game with the Blues, a 4-2 victory over the San Jose Sharks on Thursday. "I want to shoot the puck. If you shoot it on the net, somebody can stand there, bang it in or whatever, but you have to read it sometimes. You can't shoot everything. You have to make plays sometimes."
Vrana, who came from the Detroit Red Wings for a future seventh-round pick and prospect Dylan McLaughlin, is trying to make the most of his fresh start.
Blues coach Craig Berube gave him a clear mandate.
"For me, it's about using his speed all the time," Berube said. "He has to skate and become a worker and let his skill take over. That's the thing I'm going to try to drive into him is work, work, work and skate and work. Let your skill take over and then just about puck battles, win your puck battles, little things like that. That's all going to make you a better player.
"All players skilled like that anywhere in the league, they're good in open ice. They're good when they're not pressured, but you've got to be able to perform with the pressure on, and I mean somebody on you checking you."
The Blue Jackets had to press goaltender Michael Hutchinson into duty Tuesday after Elvis Merzlikins became ill during the game against the Pittsburgh Penguins. Columbus sent goaltender Joonas Korpisalo to the Los Angeles Kings in a trade that brought back Jonathan Quick, then it moved Quick to the Vegas Golden Knights in a trade that brought Hutchinson while continuing to add draft picks and prospects.
The Penguins came back on Hutchison, erasing a 4-0 deficit to win 5-4 in overtime. But Blue Jackets coach Brad Larsen appreciated how his team kept battling into the extra time.
"Proud of our guys," Larsen said. "It got to 4-4 and it could've gotten way out of hand. We pushed right back. We were right there. ... There is no negative in that game for me at all. I'm disappointed for the group. It's not a negative."
Larsen has been giving rookie Kirill Marchenko a bigger role down the stretch, playing him on a scoring line with Johnny Gaudreau and Boone Jenner. Marchenko hasn't scored a goal in five games, but his overall play has pleased his coach.
"He's going to the hard areas," Larsen said. "He's strong on pucks. He's strong in his battles. He's winning 50-50s. He's playing with more pace."
The Blues won the first game between these teams 5-2 back on Oct. 15, before they underwent roster upheaval. Since-departed winger Vladimir Tarasenko scored twice for the Blues in that game and Merzlikins allowed five goals.
--Field Level Media