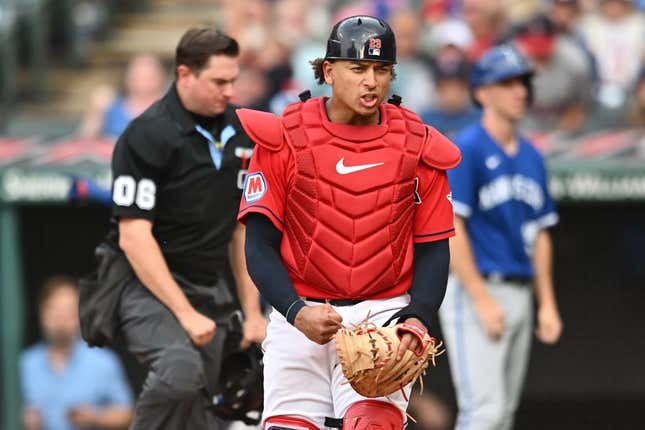 The Cleveland Guardians' season-long search for more offensive production at the catcher position has brought them to rookie Bo Naylor
How running an NFL team is like running a restaurant | Chef Emeril Lagasse
Naylor figures to be in the lineup again on Sunday when the Guardians look to complete a four-game sweep of the visiting Kansas City Royals
After receiving little production at the plate from catchers Cam Gallagher and Mike Zunino, Cleveland is giving regular playing time to the 23-year-old Naylor. Zunino was released last month, while Gallagher is batting .135 in 37 games.
Naylor boasts an impressive minor league track record, but he was mired in a 1-for-20 slump before going 3-for-4 with two RBIs in the Guardians' 10-6 win on Saturday
"It's super good to see," Naylor said. "Little by little, step by step, that's the mindset here. You take that and you run with it, and you just hope to continue to make those adjustments and get better every day."
Cleveland moved above .500 for the first time since April 19 after recording a season-high 18 hits in Saturday's victory.
The Guardians received a spark from the bottom of the order, where Josh Bell had three hits from the sixth spot and No. 8 hitter Myles Straw went 1-for-4 with two runs and an RBI. Naylor recorded the second three-hit game of his career from the ninth spot
"When we get Myles active in the eight hole and Bo getting three hits ... when we can turn the lineup over like that, it really helps," Cleveland manager Terry Francona said.
Cleveland has won the first three games of the series to move into first place in the American League Central. Meanwhile, Kansas City is on a six-game skid.
Royals shortstop Bobby Witt Jr. went 3-for-5 with a solo homer, RBI triple and a stolen base in Saturday's loss. The Royals trailed 5-0 after four innings against Cleveland starter Gavin Williams before nearly tying the game in the eighth inning
"It was a battle," Royals manager Matt Quatraro said. "Williams is tough and he was tough on us the first couple of times through the lineup. The guys didn't give up. They put together good at-bats and knocked him out of there.
The Royals will send left-hander Ryan Yarbrough (1-4, 6.15 ERA) to the mound in the series finale. He is set to come off the injured list for his first start since being hit in the head by a comebacker on May 7
"He has recovered well from that mentally and physically," Quatraro said. "He went through a rehab progression and is built up. He has gotten through six innings in the minor leagues. He feels great and is ready to go."
Yarbrough, 31, is 2-0 with a 1.86 ERA in three career games (two starts) versus Cleveland.
The Guardians will counter with right-hander Shane Bieber (5-5, 3.66), who received a no-decision after allowing four runs over 4 2/3 innings against the Atlanta Braves on Tuesday
Bieber, 28, walked a career-high five batters and struck out four while throwing 97 pitches. He is 1-2 with a 4.76 ERA in his last seven starts.
Salvador Perez is 5-for-22 with three homers against Bieber, who is 6-0 with a 2.80 ERA in 14 career starts versus Kansas City.
--Field Level Media