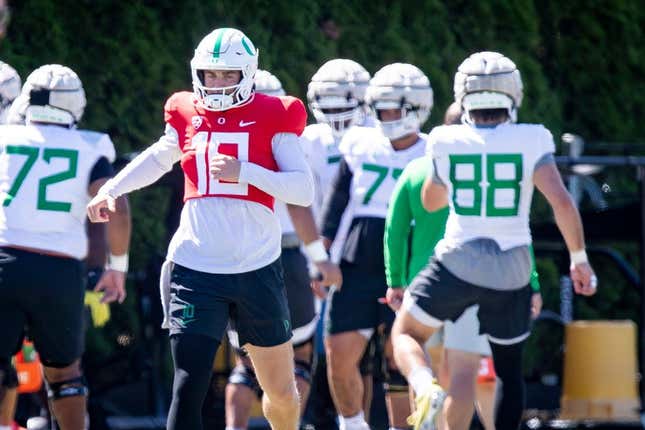 Ranked 15th in the preseason AP Top 25 Poll, the Oregon Ducks open their season on Saturday at home in Eugene against FCS foe Portland State.
How running an NFL team is like running a restaurant | Chef Emeril Lagasse
Last year, Oregon went to Atlanta to open the season. This season, the campaign starts at home.
"It's fun for us to be able to have a home game first," Oregon coach Dan Lanning said. "I'm excited to see our fans out there. I know we'll have a great crowd. It'll be a great environment for our players to get to go experience.
"Like I've said several times, guys are ready to hit somebody else. And it'll be fun to play a team that's right up from this region as well."
The Ducks are entering their second season under Lanning. After a season-opening loss to Georgia, Oregon rattled off eight straight wins and appeared to be in a position to compete for not only the Pac-12 title, but a College Football Playoff appearance.
The Ducks reached as high as sixth in the CFP rankings, but late-season losses to Washington and Oregon State cost them positioning. Still, Oregon finished Lanning's first campaign with a 10-3 record capped by a win in the Holiday Bowl over North Carolina.
Among the returners for Oregon this year is quarterback Bo Nix, who is entering his second year with the Ducks and his fifth season of college football. Nix came to Oregon after spending three seasons at Auburn.
Last season was statistically his best as a passer. Nix threw for 3,593 yards and 29 touchdowns while completing 71.9 percent of his throws. He also rushed for 510 yards and 14 scores and finished fifth in all of FBS and second in the Pac-12 for total touchdowns with 44.
Nikko Reed is a newcomer to Oregon, a defensive back who transferred in from Colorado. He's happy he doesn't have to face Nix any longer in Pac-12 play.
"It's kind of hard to bait him to throw us a pick, or bait him to look at another read," Reed told The Athletic. "He's just so smart."
Oregon's offense also returns running backs Bucky Irving and Noah Whittington, who combined for 14 touchdowns and more than 2,300 yards from scrimmage.
Leading receiver Troy Franklin - who had 61 catches for 891 yards and nine scores - is back, too. Through the transfer portal, Oregon added receiver Traeshon Holden, who scored six touchdowns for Alabama last year, and receiver Tez Johnson, who hauled in 56 passes for Troy last season.
The offensive unit is talented, but will have to adjust to a new play-caller in Will Stein, who comes to Oregon from UTSA after former offensive coordinator Kenny Dillingham left to take the head coaching job at Arizona State.
For special teams, Lanning said earlier this week that the competition for starting punter remains open between Luke Dunne and Ross James.
Portland State is entering its ninth year under coach Bruce Barnum. Aside from 2015 - when the team went 9-3 and made the second round of the FCS playoffs - the Vikings haven't produced a winning record under him.
The Vikings are led on offense by Dante Chachere, a 6-foot-3 quarterback entering his fifth season of college ball. He scored through the air and on the ground last season, rushing for 609 yards and seven touchdowns, and throwing for 1,956 yards and 19 scores.
"Dante's added weight has not slowed him down and his grasp of the offense has him reacting more and better than he did last year." Barnum said recently. "We have seen him mature through last season and into camp this season."
Portland State is 0-5 all-time against Oregon and 4-44 against all FBS competition.
- Field Level Media