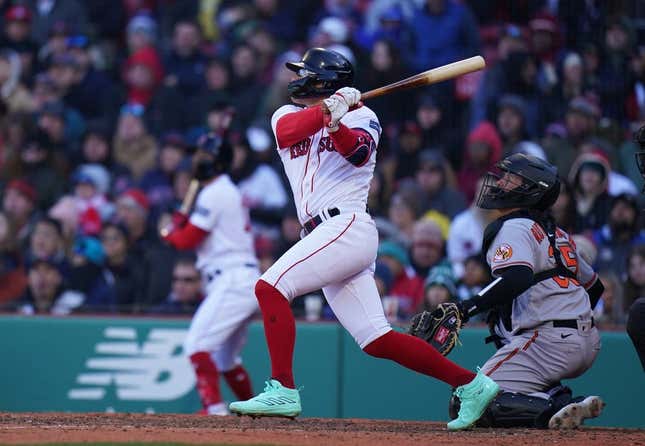 Any questions about how the Boston Red Sox's lineup would click this season have been answered pretty quickly
After becoming just the third team in major league history to score at least nine runs in each of their first three games to open a season, the Red Sox will look to keep the momentum going on Monday night when they begin a three-game series with the visiting Pittsburgh Pirates
"From top to bottom we believe we're going to put pressure on the opposition," Red Sox manager Alex Cora said. "There's certain days it's not going to work, but we're going to grind and do what we did over the weekend.
The only other teams to score nine or more runs in each of their first three games were the 1978 Milwaukee Brewers and 1976 Cincinnati Reds.
Cora's club did damage all throughout the lineup, but no player was as productive out of the gates as newcomer Adam Duvall, who was 3-for-5 Sunday with two RBIs to bring his early-season total to eight.
Duvall, who hit a walk-off home run on Saturday, also became the first player in Red Sox history to record six extra-base hits in his first three games with the club
"I feel like I see the ball pretty well and I like to pull the ball, so it's good to have (the Green Monster) there," Duvall said.
After making his second straight season-opening roster, Kutter Crawford will take a turn in the Red Sox rotation after leading the team's rookies in innings pitched in 2022
Crawford became the fourth rookie since 2016 to make 12 or more starts with the Red Sox last season, going 3-6 with a 5.47 ERA in 21 appearances (12 starts)
"When (his) velocity is up, his other pitches play," Cora said. "He's a guy who throws a lot of strikes and uses all his weapons, which is very important."
The Pirates dropped their season-opening series after Sunday's 3-1 loss to Cincinnati, but the biggest news of the day was that JT Brubaker was transferred to the 60-day injured list due to right elbow discomfort
"It changes the calculus of the rotation in that we planned on (Brubaker) being in it," Pirates manager Derek Shelton said. "Now, we're finding out that it's going to be a lengthier time, so that adjusts it right now.
Johan Oviedo will take Brubaker's spot and make the Monday start in Boston.
The 25-year-old, who has never faced the Red Sox, allowed just four earned runs over his last three starts of 2022
While Shelton considers the spot to be Oviedo's for the time being, there are plenty of other pitchers in line at Triple-A Indianapolis.
"We're right there with the best organizations in the game with our pitching and what we have," Pirates right-hander Mitch Keller said this spring. "It's really exciting to see because there is depth, and to know -- obviously never wish anyone goes down or anyone has injuries, but if that does happen, it feels like we're in a good spot to have that filled.
On the offensive side, the Pirates enter in a vastly different situation than the Red Sox after being held to three total runs over their last two games. Bryan Reynolds, whose talks for a new contract extension have been silent recently, hit a solo homer on Sunday
--Field Level Media