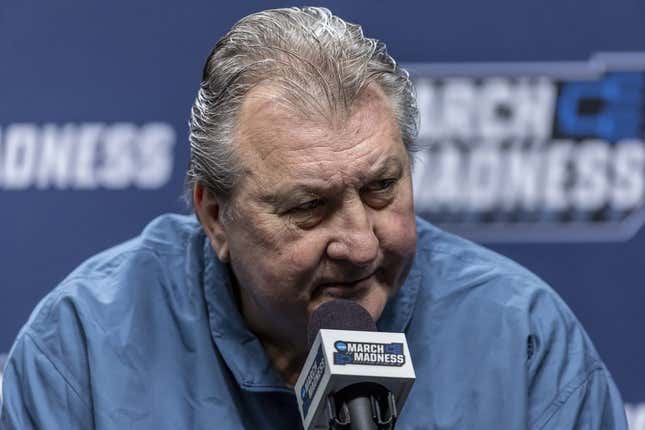 Former West Virginia men's basketball coach Bob Huggins was placed on 12 months of probation for his June DUI arrest after agreeing to enter a diversionary program for first-time offenders.
How running an NFL team is like running a restaurant | Chef Emeril Lagasse
Huggins was scheduled to be arraigned Thursday in Pittsburgh, but that hearing was canceled once he was accepted into Accelerated Rehabilitative Disposition.
Huggins' probation, which could be completed in six months if meets all the conditions, includes a suspended driver's license for at least 60 days, completion of a 12.5-hour alcohol safety class and completion of treatment, according to WTRF.
He's already been assessed $2,810 in court costs.
Huggins was arrested June 16 in Pittsburgh.
According to the Pittsburgh Police Department, officers observed Huggins' black SUV blocking traffic with a flat tire and the driver's side door open.
Huggins was directed to pull over and, after being questioned by police, was issued a standard field-sobriety test that he ultimately failed. Officers observed "empty beer cans in a white garbage bag of empty metal beer bottles. In the trunk of the vehicle was another white garbage bag of empty metal beer bottles."
Huggins, 69, was then charged with DUI and released from custody. He resigned about 24 hours later, though Huggins later disputed that he actually resigned and entered into a legal imbroglio with the university, maintaining he's still the coach.
WVU named Josh Eilert interim head coach for the entire 2023-24 season a week after Huggins' arrest.
Huggins had coached the Mountaineers since 2007. He was inducted into the Basketball Hall of Fame in 2022 and is one of only six men's coaches to reach 900 career wins.
—Field Level Media