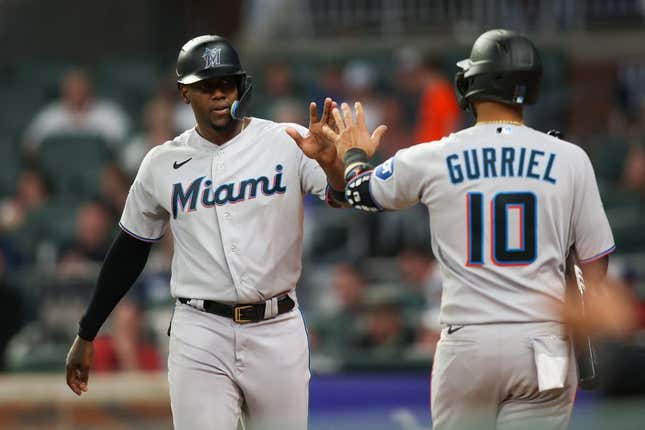 The Miami Marlins have seemingly turned a corner
The Seattle Mariners? They're headed in reverse
Such is the case for the teams as they enter a three-game interleague series beginning Monday night in Seattle.
How running an NFL team is like running a restaurant | Chef Emeril Lagasse
The Marlins rallied for a 6-5 victory against the host Chicago White Sox on Sunday to improve to 12-3 over their past 15 games and solidify their hold on second place in the National League East
The Marlins are 17-5 in one-run games this season. That's the highest winning percentage (.773) by a team in those situations in the major league's modern era (since 1900)
"It's one of the beautiful things that I have experienced in my career -- being with a team like this, the way we're playing," Marlins outfielder Jorge Soler said via an interpreter. "I know a lot of people don't believe in us, but we do. And we're going to continue to play our ball.
Soler's solo homer, his second of the game, in the eighth inning sparked a comeback from a 5-1 deficit. Garrett Cooper and Jean Segura also went deep, and Bryan De La Cruz added a two-run double with two outs in the ninth to give the Marlins the lead
Soler's 19 home runs are tied for second most in the majors with the New York Yankees' Aaron Judge.
"You can see what (Soler) does when he's healthy," Marlins manager Skip Schumaker said. "He is an impact bat that changes the score.
Along with fellow veteran Yuli Gurriel, Soler has seemingly helped change the mentality in the Marlins' clubhouse
"Resiliency, working hard, trying to go out there and compete all the time," Soler said. "We've been doing it for quite a while already. As a team, we want to play until the end of the game and never give up."
The Mariners, who snapped a playoff drought that dated back to 2001 last season, went 2-6 on their recent road trip to drop 10 games behind American League West-leading Texas
Seattle lost 9-4 to the Los Angeles Angels in Anaheim, Calif., on Sunday as starter Logan Gilbert allowed seven runs (six earned) over three-plus innings.
"There'll be days you maybe don't have your electric fastball or things like that, but you've got to figure out a way to work through lineups and give your team a chance, and we haven't been able to do that," Mariners manager Scott Servais said. "We get behind early, big numbers early on, and then you're kind of swimming upstream.
Marlins left-hander Jesus Luzardo (5-4, 3.79 ERA) is scheduled to start against Mariners rookie righty Bryce Miller (3-3. 4.46) on Monday
Luzardo, who is 2-0 with a 2.55 ERA in five career appearances (two starts) against the Mariners, is coming off perhaps his best start of the season last Tuesday against Kansas City. He allowed one run on two hits over seven innings, with no walks and eight strikeouts, in a 6-1 victory
Miller, who will be facing the Marlins for the first time, started his career with five consecutive quality starts, allowing just four runs during that span
But he's been hammered the past two times out, losing 10-4 to the New York Yankees and 12-3 to the Rangers. He lasted a combined seven innings over those games and gave up 15 runs on 19 hits, including three homers.
--Field Level Media