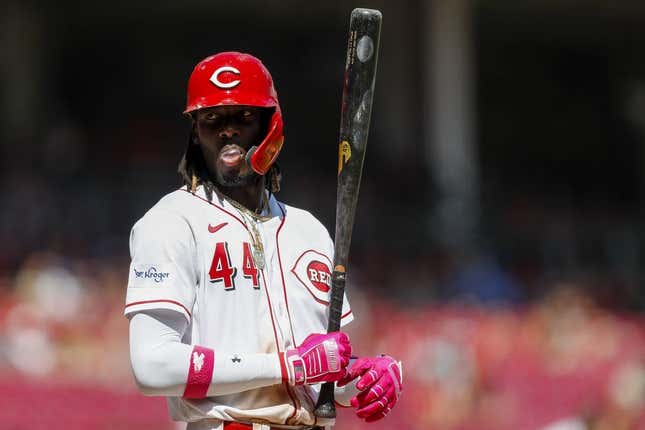 One team will get a much-needed win when the Miami Marlins visit the Cincinnati Reds on Monday to open a three-game series
How running an NFL team is like running a restaurant | Chef Emeril Lagasse
The Marlins have lost four straight, six of their last seven and 16 of 21 since the All-Star break. However, they can take some consolation knowing that they are still in the thick of the National League wild-card chase, just one half-game out of the third and final berth
Streaky Cincinnati knows the feeling. The Reds have lost six straight, their second such skid in less than a month and third of the season. Cincinnati followed those earlier runs of futility with five-game winning streaks, and it also won 12 straight games in mid-June to vault to the NL Central lead
"Come out and play hard and fight through it," Reds manager David Bell said after Sunday's 6-3 loss to the Nationals that allowed Washington to complete a three-game sweep
"We've done it before, which gives us some confidence. We have a young team that has gone through a few of these stretches before and know how to do it.
A lingering problem has been Cincinnati's starting pitching. The patchwork rotation is third worst in the majors with a 5.51 ERA
Right-hander Lyon Richardson was brought up from a brief stint at Triple-A Louisville to make his major league debut on Sunday, and the Nationals hit his first two pitches for 400-foot-plus homers
Left-hander Brandon Williamson (3-2, 4.85 ERA) gets the start on Monday for the Reds. He was brought up from Triple-A in mid-May amid a shaky rotation then as well
Williamson's longest start has been 6 2/3 innings, and he has gone six innings two other times in his 14 outings. Williamson has never faced the Marlins
The Marlins are summoning impressive rookie right-hander Eury Perez (5-3, 2.36) from Double-A Pensacola to start on Monday. Perez made 11 starts from May 12 to July 6 as Miami dealt with its own rotation issues, and he was sent back down to limit his innings and rest him as needed
"We're excited to have Eury back (Monday), and we're looking forward to maybe him sparking us," Marlins manager Skip Schumaker said. "I don't want to put too much pressure on a 20-year-old. We have to monitor him still, also. He's on his way back
"I don't want him to feel like he has to be the hero, either. ... But I like my chances, obviously, with him.
Perez made his major league debut on May 12 against the Reds and gave up two runs on four hits and two walks with seven strikeouts. He took a no-decision in Cincinnati's 7-4 win
Schumaker also hopes to have starting center fielder Jazz Chisholm Jr. back on Monday. He left Saturday's game with a right hamstring cramp and didn't play Sunday, when the Marlins lost 6-0 to the Rangers
Miami was swept in the three-game series with Texas, and on Sunday, one play summed up Schumaker's frustration
Trailing 4-0, Miami had runners on first and second with no outs in the sixth. All-Star slugger Jorge Soler ripped a 109-mph liner that hit off third baseman Josh Jung's glove and dribbled toward the base. Jung managed to retrieve the ball, touch third and throw to second for an unusual double play
Soler's rocket broke Jung's left thumb
"When you're on a streak like this," Schumaker said, "those plays happen. I haven't seen a play like that ever in my big-league career and it so happens to be a double play.
--Field Level Medi