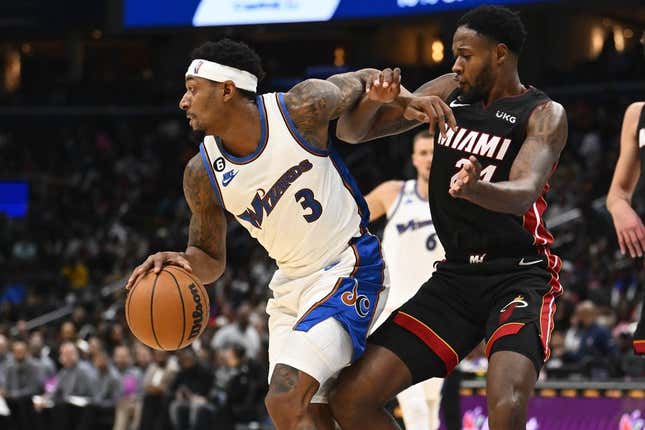 If the Washington Wizards decide to deal Bradley Beal as part of a roster overhaul, a slew of Eastern Conference rivals have emerged as the favored destinations
Is Texas or Florida State a bigger national title contender? | Agree to Disagree
Then again, if the Wizards part with Beal, Kristaps Porzingis and Kyle Kuzma this offseason, it will be a while until anyone considers Washington a true "rival." Both Porzingis and Kuzma hold player options, the first dominoes in deciding Beal's fate
The Miami Heat are widely considered the likeliest destination for Beal, and have been installed as the +370 favorite to acquire the three-time All-Star by DraftKings -- with the Wizards offered at +160 to retain him
Beal has the NBA's only active full no-trade clause, and Miami is believed to be high on his list of potential next teams. The Heat, coming off a run to the NBA Finals, has a roster focused on Jimmy Butler and Bam Adebayo but were the lowest-scoring team in the NBA last season
Whether they would part with sharp-shooter Tyler Herro in a deal that would bring back Beal and the remainder of his five-year, $251 million deal signed last summer is a big question mark.
The next-shortest odds belong to the Philadelphia 76ers, who will be seeking another complement to Joel Embiid, with James Harden a free agent. The team could still re-sign Harden, however, and also has a pending extension for Tyrese Maxey to consider.
Miami eliminated Boston in seven games in the Eastern Conference Finals, and the Celtics have the third-shortest odds at +900 to land Beal. Boston's biggest offseason priority is a contract extension for Jaylen Brown. With Celtics star Jayson Tatum also eligible for a supermax deal, it could be prohibitive to also add Beal's contract.
The Milwaukee Bucks, who were eliminated in the first round by Miami, have shown interest in Beal, according to ESPN. While Milwaukee has Jrue Holiday to team with star Giannis Antetokounmpo, center Brook Lopez is a pending free agent and Khris Middleton holds a player option for next season.
Bradley Beal Next Team Odds
Washington Wizards (+160
Miami Heat (+370
Philadelphia 76ers (+650)
Boston Celtics (+900)
Milwaukee Bucks (+1000)
Brooklyn Nets (+1200)
New York Knicks (+1200)
Los Angeles Clippers (+2500)
Los Angeles Lakers (+3000)
Dallas Mavericks (+3000)
Cleveland Cavaliers (+3000)
Sacramento Kings (+3000)
Memphis Grizzlies (+3000)
Phoenix Suns (+3000)
Houston Rockets (+4000)
Golden State Warriors (+4000)
Minnesota Timberwolves (+4000)
Toronto Raptors (+4000)
Oklahoma City Thunder (+4000)
Denver Nuggets (+5000)
Portland Trail Blazers (+5000)
New Orleans Pelicans (+5000)
San Antonio Spurs (+5000)
Chicago Bulls (+6000)
Atlanta Hawks (+6000)
Orlando Magic (+6000)
Charlotte Hornets (+6000)
Indiana Pacers (+7500)
Utah Jazz (+7500)
Detroit Pistons (+7500)
Beal's contract could lead to a surprisingly tepid demand. His agent, Mark Bartelstein, must be involved in any trade discussions, which could further limit potential destinations.
Beal, who will be 30 when next season begins, averaged 23.2 points and 5.4 assists in just 50 games during the 2022-23 season. He was limited by injuries and a stint in the health and safety protocol, and Beal has missed a combined 74 games over the past two seasons.
He has spent his entire 11-year career with Washington, averaging 22.1 points in 695 career games (661 starts) since being selected No. 3 overall in the 2012 draft.
--Field Level Media