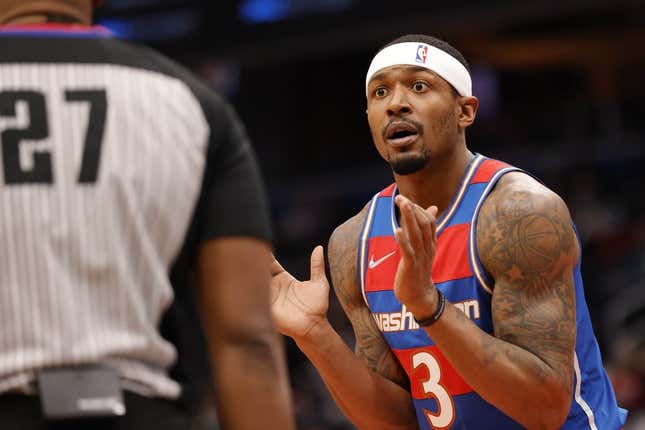 Bradley Beal turned 30 on Wednesday, yet he seemed to hold off the celebration until Thursday.
How running an NFL team is like running a restaurant | Chef Emeril Lagasse
One day after his milestone birthday, Beal charted a course toward his future when he was introduced as the newest member of the Phoenix Suns
"I'm super excited for this opportunity," Beal said. "Yesterday was my birthday so I feel fresh, I feel rejuvenated. This is an exciting moment for me. This is an awesome team. We have a very, very awesome core that I'm just happy to be a part of and excited to push these guys every single day and learn from them as well."
Traded to the Suns from the Washington Wizards earlier this month in exchange for Chris Paul and Landry Shamet, Beal has big shoes to fill. Paul was a guiding force for the Suns through a run of success that led Phoenix to the NBA Finals in 2021 and the Western Conference finals in each of the past two seasons
Beal made the playoffs just once in that span, with the Wizards losing in the first round in 2021. And while the Wizards have appeared in the playoffs five times in his 11 seasons in Washington, the team never made it out of the second round.
Yet Beal's track record suggests that with a better supporting cast, his contributions could lead to more postseason success. He has averaged 22.1 points per game in his career with 4.1 rebounds and 4.3 assists over 695 career games. In 45 playoff games, he has averaged 23.5 points.
With the Suns, he will play with Kevin Durant and Devin Booker, getting a chance to mesh with top talent in the league like never before
"I get antsy just thinking about it," Beal said, when asked about being on a team where he will not necessarily be the primary defensive focus. "... I'm excited about it. You have a lot of dynamic scorers (and) the biggest box that we check is our unselfishness. All of us want to compete, we want to play hard and the biggest thing is we want to win."
New head coach Frank Vogel did not waste any time revealing his expectations.
"Bradley Beal is one of the best players in the NBA and we're thrilled to have him be a Phoenix Sun," Vogel said. "With K.D. and Book, we form a trio of three of the most prolific scorers in the game. ... These pieces are a great foundation are what we hope can be a championship run for this franchise."
Now with a legitimate chance to win an NBA title, Beal knows the opportunities to be seen will only increase.
"It's not easy to win in this league and I think that is what a lot of people get misconstrued (that) no matter how much talent you have, you still have to make it work, put in the work and get the job done," Beal said. "I'm super ecstatic that every single day I have a chance to play in a meaningful game. I think that is one of the biggest things that impacted me in coming here."
Beal played in just 50 games (all starts) last season. He averaged 23.2 points, 5.4 assists and 3.9 rebounds per game and shot 36.5 percent from 3-point range. Injuries and multiple stays on the COVID-19 reserve list have limited Beal to just 90 games over the past two seasons.
Since the Wizards made him the third overall draft pick out of Florida in 2012, Beal has been an All-Star in 2017-18, 2018-19 and 2020-21. He finished second in the NBA in scoring twice (30.5 points per game in 2019-20, 31.3 per game in 2020-21).
--Field Level Media