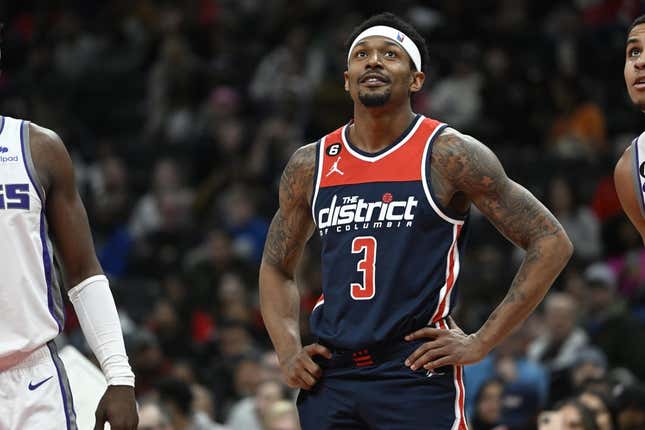 A fan is suing Washington Wizards star Bradley Beal for assault and battery and suing the team for negligence over a postgame incident in Orlando last month
Chris Paul should ride the bench next season | Keep it a Buck(et)
The plaintiff, Kyler Briffa, of Orange County, Fla., is asking for damages exceeding $50,000 related to the incident in which Beal allegedly hit the side of Briffa's head after a comment by Briffa's friend aimed at Beal.
According to the suit, after the Wizards lost to the Magic at Amway Center in Orlando on March 21, Briffa and his friend -- who had courtside seats -- were standing in the tunnel the team walks down to return to the locker room
According to a police report of the incident, as Beal was walking by them, Briffa's friend said to Beal, "You made me lose $1,300, you f--."
The suit alleges Beal "stopped, turned around, walked back toward the unsuspecting (Briffa) and without a word, intentionally struck the side of (Briffa's) head knocking his hat off of his head."
Briffa claims that during the confrontation, Beal told him, "When you disrespect me, I'm going to press you about it. Do you think this is a joke, do you think this is a joke, do you think this is a joke, do you think this is a joke ... because when I press you about it, what are we doing? What are we doing? What are we doing?"
In the suit, Briffa claims his hat flew "5-6 feet behind him" and that he believed Beal "was attempting to provoke a physical altercation."
A Wizards staffer eventually broke up the situation and led Beal away from Briffa and his friend
The Orlando Police Department is investigating the incident but no charges have been filed.
Beal addressed the incident at a postseason press conference on April 10.
"Nobody wants to lose money. I get it. If you keep it about sports, I'm all for it," he said. "But I think it's when people start getting personal, talking about your family, talking about your character, your integrity towards the game. I think all of that, we can save it. We can really keep those comments to ourselves."
Referencing the recent increase in sports gambling, Beal said, "I understand. I go to casinos; I gamble; I understand that. But I also understand it's probably a 99 percent chance I'm going to lose. I'm not sitting here about to get angry at the dealer or angry at everybody else."
A three-time All-Star, Beal finished the regular season averaging 23.2 points, 5.4 assists and 3.9 rebounds in 50 games (all starts), the guard's 11th campaign with Washington.
The Wizards finished the season at 35-47, out of playoff contention
--Field Level Media