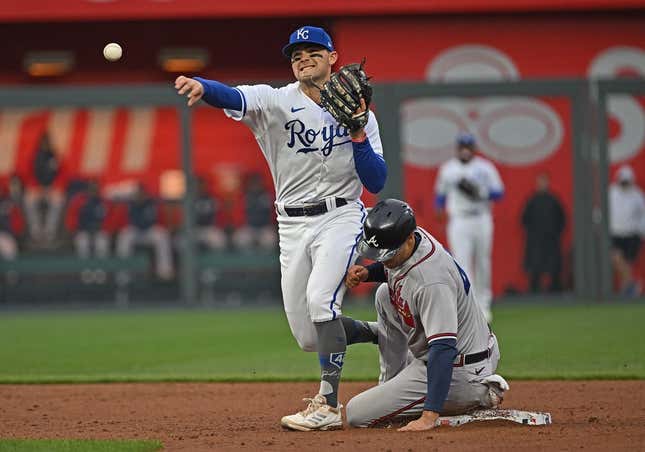 Sean Murphy and Ozzie Albies both had three hits and drove in four runs as the visiting Atlanta Braves extended their winning streak to five games with a 9-3 victory over the Kansas City Royals on Saturday
Murphy was 3-for-3 with two doubles, a home run, a walk, two runs and was hit by a pitch. The home run was his third of the season and carried 394 feet, nearly reaching the fountains in left-center field.
Albies was 3-for-5 and helped put the game away with a two-out single that drove in two runs in the eighth inning.
The Braves combined for 14 hits, with Matt Olson, Vaughn Grissom and Kevin Pillar each picking up two
Kansas City's Bobby Witt was 3-for-5 with two doubles and two runs. It was his fourth straight multi-hit game.
The winning pitcher was Bryce Elder (2-0), who pitched 5 1/3 innings and allowed three runs on eight hits with two walks and four strikeouts. He allowed a run in the first inning to end a personal 13-inning scoreless streak to start the season.
The losing pitcher was Kris Bubic (0-2), who gave up five runs on 10 hits with one walk and three strikeouts over five innings. It was the most hits and runs allowed by Bubic in three starts this season.
The Braves got a run in the first inning on Murphy's two-out double, but the Royals answered in the bottom half of the frame with a two-out RBI double by Salvador Perez
Atlanta scored three times in the third on an RBI double by Murphy and a two-run single by Albies before adding a run in the fifth inning on Murphy's home run.
The Royals added a run in the fifth on a double by Kyle Isbel and struck again in the sixth on a double by Jackie Bradley Jr., the 200th of his career, to make it 5-3
The Braves put it away with four runs in the eighth on bases-loaded walks to Olson and Murphy and a two-run single by Albies
--Field Level Media