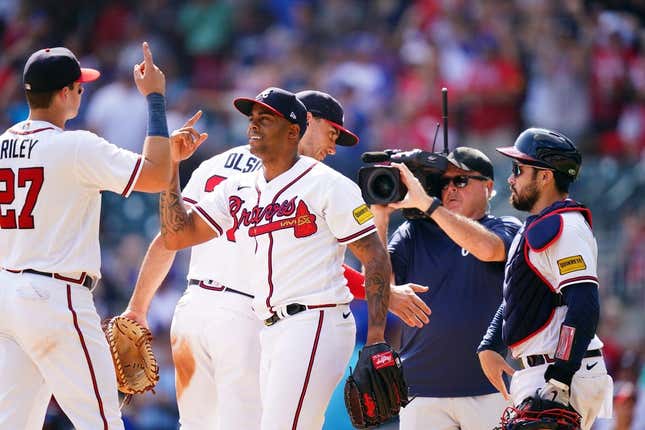 The Atlanta Braves became the first team in the majors to clinch a postseason berth on Sunday, but manager Brian Snitker is already focused on the next task at hand.
How running an NFL team is like running a restaurant | Chef Emeril Lagasse
The Braves can take another step toward their sixth straight National League East title when they begin a four-game series against the host Philadelphia Phillies with a doubleheader on Monday.
Atlanta (93-49) reduced its magic number to clinch the NL East to six after taking two of three games against the Pittsburgh Pirates, including the playoff-clinching 5-2 victory on Sunday.
"We've got a seat at the table now," Snitker said. "It's not what we left spring training to accomplish, because that's the division. To get in is huge ... but our No. 1 goal is to win the division."
The Braves can achieve that feat by winning three of four games against the Phillies (78-64), who are two games ahead of the Chicago Cubs for the NL's top wild card.
Philadelphia lost 5-4 to the Miami Marlins on Sunday despite strong performances from their two hottest hitters in Kyle Schwarber and Trea Turner. Both homered in the loss to help the Phillies claim an early 3-0 lead.
"I feel like that's what we both can do," Turner said. "He hits the homer quite a bit, and I've got going. I think we can change the game in a hurry, and it's nice putting those runs up early and trying to put the pressure on the other guys."
Schwarber has 16 home runs since Aug. 5, and Turner is close behind with 14.
Monday's Game 1 pitching matchup features a pair of veteran right-handers in Atlanta's Charlie Morton (14-11, 3.32 ERA) and the Phillies' Taijuan Walker (15-5, 4.15).
Morton, 39, saw his four-game winning streak snapped on Sept. 3 in a 3-1 loss to the Los Angeles Dodgers. He gave up two runs on six hits in four-plus innings.
Alec Bohm is 10-for-25 (.400) against Morton, who went 4-1 with a 1.91 ERA across five starts in August. He is 5-7 with a 4.73 ERA in 18 career starts versus Philadelphia.
Walker, 31, will take the mound for Philadelphia after giving up four runs over five innings in a 9-7 win over the San Diego Padres last Monday.
Austin Riley is 4-for-10 (.400) with a home run against Walker, who allowed three runs over 6 2/3 innings in a 6-4 win over Atlanta on May 26. He is 2-2 with a 4.93 ERA in eight career starts versus the Braves.
Walker will face a dynamic Atlanta lineup that continues to find different ways to manufacture runs.
"I think that's the big step we've taken with our offense," Snitker said. "I think one of the reasons our offense has been so good is that we don't live and die by the homer like we have in the past."
Philadelphia will send right-hander Michael Lorenzen (8-9, 3.95) to the mound in Game 2. Lorenzen is looking to bounce back after yielding seven runs (six earned) over six innings in an 8-0 loss to San Diego last Tuesday.
Lorenzen, 31, has given up 19 earned runs in four starts since pitching a no-hitter against the Washington Nationals on Aug. 9.
"I mean, I'm about as frustrated as you can get," Lorenzen said. "My job is to get big-league hitters out and keep our team in a good position to win a baseball game. I feel like I've failed at that quite often."
Orlando Arcia is 7-for-17 (.412) with two homers against Lorenzen, who is 0-1 with a 5.40 ERA in 10 career appearances (one start) versus Atlanta.
The Braves have not announced a starter for the finale of the twin bill.
—Field Level Media