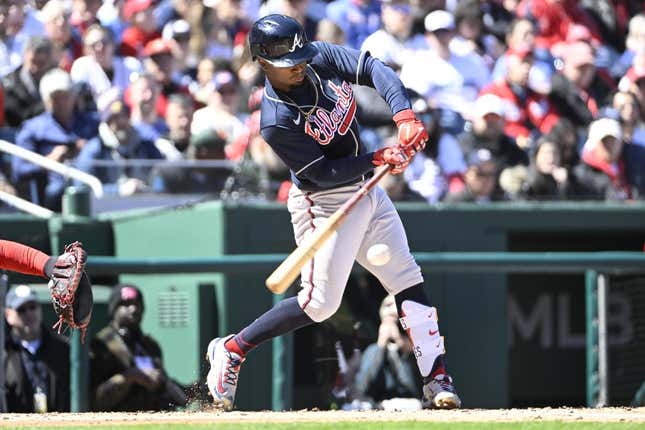 Travis d'Arnaud had four hits and drove in two runs, and the Atlanta Braves used six pitchers on Opening Day in a 7-2 victory against the host Washington Nationals on Thursday afternoon
The reigning NL East Division champion Braves were boosted by three-run spots in the second and ninth innings, helping mitigate the impact of leaving 12 runners on base
Atlanta won on Opening Day for the sixth time in a seven-year stretch.
Braves starting pitcher Max Fried left in the bottom of the fourth inning with hamstring tightness. The Braves led 4-1 when he exited after working 3 1/3 innings. He gave up four hits and struck out two without a walk
The Braves made the most of a largely tame offensive effort in the second inning. Orlando Arcia's single drove in the first run. Austin Riley's bases-loaded walk and Ozzie Albies' infield single pushed the lead to 3-0
The Nationals got one back in the bottom of the second. Keibert Ruiz's double helped set up Alex Call's sacrifice fly
Matt Olson doubled to lead off the fourth against Nationals starter Patrick Corbin, who was replaced. Olson ended up scoring later in the inning
The Nationals scored again in the fifth on Joey Meneses' two-out single
d'Arnaud's two-run double in the ninth came before the Braves tacked on another run on an error
Lucas Luetge (1-0) was the winning pitcher with one inning of relief.
Ronald Acuna Jr., Olson and Albies all had two hits for the Braves
Meneses, Ruiz and team newcomer Dominic Smith all had two hits for the Nationals, who were messy in the field and gave up three unearned runs
Since reaching the major leagues in 2018, Fried has been on the injured list at least once in every season.
Corbin (0-1), who is coming off a 19-loss season, was tagged with the defeat. He allowed four runs on seven hits and three walks.
The teams are off Friday before resuming the three-game set Saturday.
--Field Level Media