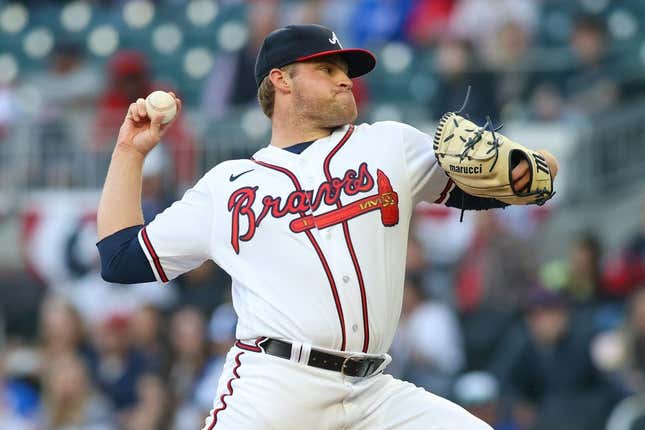 Sean Murphy had three hits, including a two-run homer in the 10th inning, to help the Atlanta Braves beat the visiting Cincinnati Reds 5-4 on Monday and end their three-game losing streak
Air Jordans are more American than McDonald's French fries | Deon Cole's Ultimate Sports Fantasy
The Reds erased a two-run deficit in the ninth inning and Jonathan India drove in a run in the top of the 10th to give them a 4-3 lead
Murphy then hit the first pitch he saw from Derek Law (0-2) for a two-run homer, his first with the Braves. Murphy also had two doubles and drove in three runs
The winning pitcher was Dylan Lee (1-0).
In the ninth, Atlanta reliever A.J. Minter allowed three straight hits that tied the game. Wil Myers singled to right and scored when pinch-hitter Stuart Fairchild hit a high fly that left fielder Kevin Pillar was able to leap, hit with his glove and prevent a home run. Fairchild ended up with a triple and scored on Spencer Steer's game-tying single.
The blown save erased a fine effort from Bryce Elder, who put together his second straight scoreless start. Elder threw 6 1/3 innings, allowed six hits with seven strikeouts and one walk.
Cincinnati starter Graham Ashcraft allowed two runs on six hits in six innings with seven strikeouts and three walks.
The Braves broke a scoreless tie with a run in the sixth inning. Austin Riley singled with one out and scored when Murphy ripped a double just inside the third-base bag. Riley never slowed down and beat Will Benson's throw
Atlanta added a run in the seventh when Orlando Arcia scored on reliever Reiver Sanmartin's two-out wild pitch.
Cincinnati put up a run against reliever Nick Anderson in the eighth inning to cut the lead to 2-1. India doubled to left, just missing a home run, and scored on a liner to right by Jake Fraley.
The Braves added an insurance run against Sanmartin in the bottom of the inning. Ozzie Albies singled off the foot of shortstop Jose Barrero and scored two batters later on Arcia's two-out single
--Field Level Media