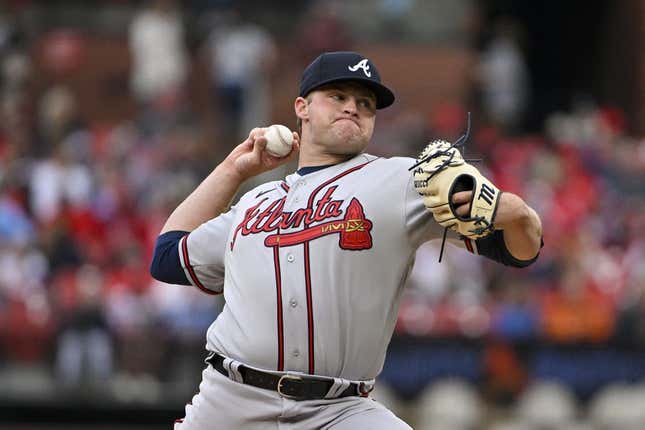 The Atlanta Braves needed less than two weeks to match their longest losing streak of 2022
'Soccer fandom is full of gatekeepers' says Ted Lasso actor Brendan Hunt
But the Braves won't even have to wait 24 hours to try to snap the skid Monday night, when they will host the Cincinnati Reds in the opener of a three-game series
Bryce Elder (1-0, 0.00 ERA) is scheduled to start for the Braves against Graham Ashcraft (1-0, 1.29) in a battle of right-handers
The Braves suffered their third straight loss Sunday night, 10-2 to the visiting San Diego Padres. The Reds snapped a three-game losing streak earlier Sunday with a come-from-behind, 6-4 victory over the host Philadelphia Phillies
Atlanta's loss closed a four-game series that began in encouraging fashion as the Braves ran a winning streak to four games with a 7-6 walk-off win over the San Diego Padres on Thursday night before being outscored 19-7 over the final three games
The weekend was especially challenging for Atlanta, which put All-Star catcher Travis d'Arnaud on the seven-day injured list because of a concussion he suffered during a home plate collision with Rougned Odor on Saturday.
On Sunday, the Braves absorbed their most lopsided defeat since a 9-1 loss to the Phillies last Sept. 23 -- a loss that also capped their fourth and final three-game losing streak of the season
Atlanta hasn't lost four straight since Sept 14-18, 2021.
"It's not going to be easy, and it's never going to go as planned," Braves manager Brian Snitker said Sunday night. "You're going good and then all of a sudden, a couple games happen and you've just got to keep fighting and know it can happen in reverse, too.
The Reds reversed their fortunes in dramatic fashion Sunday afternoon when Jake Fraley laced a three-run double in the top of the ninth to cap a series previously marred by late-inning struggles by the Cincinnati bullpen
J.T. Realmuto hit a tie-breaking two-run homer in the seventh inning of the Phillies' 5-2 win on Friday while Bryson Stott's walk-off RBI single ended a three-run ninth inning in Philadelphia's 3-2 victory Saturday.
The Reds were two outs away from defeat before rallying Sunday, when Stuart Fairchild walked and stole second as Jonathan India drew a walk. TJ Friedl followed by legging out an infield single before Fraley's go-ahead hit
"That's why you keep playing the game," Reds manager David Bell said. "That's what (the Phillies) did last night, and that's what we did today. We bounced back. They all count the same, but sometimes it's a little tougher on certain days.
Elder won his season debut Wednesday, when he allowed two hits over six scoreless innings as the Braves beat the host St. Louis Cardinals 5-2. Ashcraft will make his second start of the year after earning the win April 2, when he gave up one run over seven innings as the Reds beat the visiting Pittsburgh Pirates 3-1
Elder has never opposed the Reds, and Ashcraft has never faced the Braves
--Field Level Media