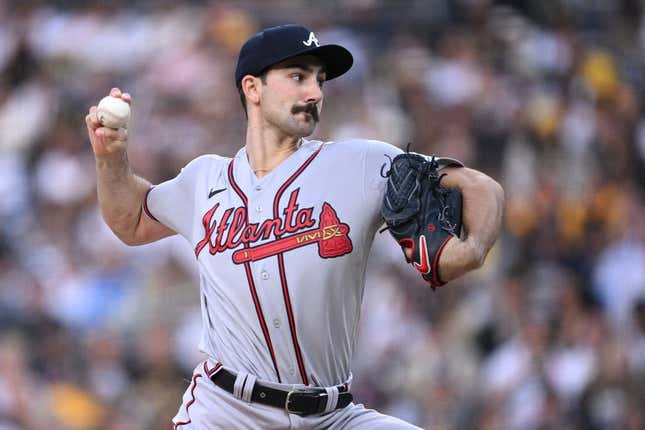 The Atlanta Braves look to pull out of a slump on Monday when they open a four-game home series with their National League East counterparts, the Miami Marlins
Air Jordans are more American than McDonald's French fries | Deon Cole's Ultimate Sports Fantasy
Miami heads to Atlanta having won four straight series, most recently taking both games in a doubleheader on Saturday against Cleveland before dropping Sunday's finale, 7-4.
The Marlins start right-hander Edward Cabrera (1-1, 4.08 ERA), who scored his first win of the season in his last appearance, April 18 vs. San Francisco. Cabrera struck out a season-high eight batters and went a season-long six innings
Cabrera has no decisions and a 3.12 ERA in two career starts against Atlanta, the most recent a five-inning effort last September. Cabrera struck out seven and gave up just one earned run in a 2-1 Marlins loss
The series opener on Monday is the first between the divisional opponents this season, and the first with Luis Arraez in the Miami lineup. Arraez, winner of a Silver Slugger award and the American League batting title last season in Minnesota, is hitting .444 in 72 at-bats with the Marlins in 2023
He did not appear in Sunday's 7-4 loss at Cleveland, but Jorge Soler -- a member of Atlanta's World Series-winning team in 2021 -- went 3-for-3 vs. Guardians.
Miami also got production Sunday from Avisail Garcia, who hit a three-run home run in the eighth. It was his second homer of the season.
"We just have to keep continuing to play good baseball," Garcia told the Miami Herald following Sunday's loss.
The Marlins have won eight of their last 11 games and have limited opponents to two runs or fewer in six of those contests
Spencer Strider (2-0, 2.45) makes the start for an Atlanta team trying to pull out of a four-game skid. Strider comes in with 36 strikeouts in his first four starts of the season, with nine strikeouts in each contest.
He earned the win after going six innings with just one hit his last time out, April 18 at San Diego. Monday marks Strider's first career start against the Marlins after having seen them out of the bullpen twice early in the 2022 campaign. He is 0-1 with a 27.00 ERA in those two appearances
Atlanta aims to rebound from falling on the wrong end of a sweep for the first time in 2023.
The Braves coughed up leads late in all three losses of its weekend series against Houston, concluding with a 5-2 loss on Sunday in which the Astros plated each of their runs from the sixth inning onward
The defeat capped a trying weekend for the Braves bullpen. A.J. Minter took losses on both Friday and Sunday, giving up a ninth-inning home run to Yordan Alavarez in the first game of the series and surrendering three earned runs on Sunday
"I can't be too discouraged about it, because I thought I made some pretty good pitches," Minter said in his postgame press conference. "I just gotta chalk that one up and just be ready to go tomorrow and ready to pitch."
The Atlanta bullpen will add reinforcements with Collin McHugh and Raisel Iglesias nearing returns. Minter said having them back will be "a game-changer."
--Field Level Media