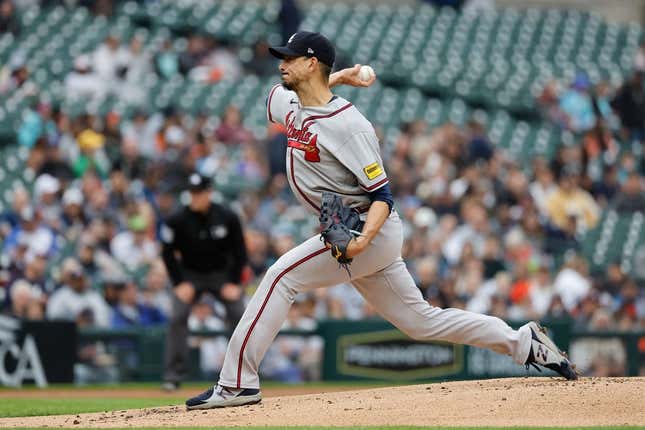 The Cincinnati Reds take the field Sunday trying to start a new winning streak, while the visiting Atlanta Braves look to leave town with a series win as the two clubs play the rubber match of a three-game series
How running an NFL team is like running a restaurant | Chef Emeril Lagasse
A day after Cincinnati ended Atlanta's eight-game winning streak, the Braves snapped the Reds' historic run at 12 games with a 7-6 victory on Saturday. The streak matched Cincinnati's longest of the modern era
The teams have combined for 17 home runs in the first two games, including nine by Atlanta. The Braves lead the majors in homers with 138
The Reds lead the majors in comeback wins with 27, including the last five games of the 12-game streak. Their four home runs on Saturday, including two solo homers in the ninth, left them just one run short of sending the game to extra innings
"It was quite a streak," Reds manager David Bell said. "It went on for a while so we didn't get used to it and that's a good thing. It was a great streak. We all appreciate what we were able to accomplish against good teams and we learned a lot about ourselves and we became a better team. We became stronger.
The Reds used their longest winning streak in 66 years to vault themselves to the top of the National League Central. Bell said he wants to make sure the Reds use it as a springboard for the rest of the season
"As appreciative of the streak as we are, everything we are and what we have in our clubhouse does not go away, and that's very strong," Bell added. "That's important for us to remember."
While rookies Elly De La Cruz, Matt McLain and Andrew Abbott were big parts of the streak, rookie Spencer Steer also played a major role. His two-run homer Saturday has him tied for the team lead with 11 and puts him second in RBIs with 42.
"We've proved we can play with these heavyweights," Steer said of a road sweep of the Astros and Friday's rally over the Braves. "I think the belief in the clubhouse is that we are good, and we know how good we are. I think this weekend is showing the city of Cincinnati, and kind of earning their trust and their belief that we are good.
De La Cruz has amazed teammates and opponents alike with his raw skills and production in just 16 games. De La Cruz singled, walked, stole second and scored a run Saturday, the seventh straight game the rookie sensation has recorded a hit and a run in the same game.
"It's incredible to see what he's doing with his abilities," Braves outfielder Ronald Acuna Jr. said of De La Cruz through a translator. "It's been fun to watch him showcase that. I wish him continued success and health.
The Reds, baseball's oldest professional franchise, fell a game shy of the 13-game streak in 1890 and two short of the 14-game run in 1899. Cincinnati's 12-game streak stands as the second longest in the majors this season, one shy of Tampa Bay's 13-gamer to open the season
The Braves will send veteran right-hander Charlie Morton (6-6, 3.71 ERA) to the mound in the finale. Morton is making his 21st career start against the Reds. He is 7-8 with a 4.10 ERA against Cincinnati
The Reds were forced to scratch Sunday's scheduled starter Ben Lively after Lively landed on the 15-day injured list with a right pectoral strain before Saturday's game
While no official announcement was made regarding his replacement, The Athletic reported that the Reds will summon right-hander Levi Stoudt (0-1, 10.29) from Triple-A Louisville to make his second major league start and third appearance overall
Stoudt's first start was against another major league heavyweight. In his big-league debut against the Tampa Bay Rays on April 19, he surrendered seven runs on nine hits with a walk and three strikeouts. He lasted four innings.
--Field Level Media