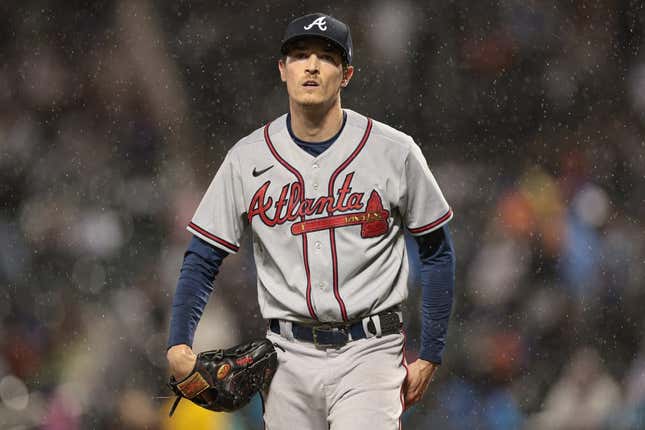 The Atlanta Braves, the top team in baseball, have gotten all they can handle from the sub-.500 Pirates two games into a four-game series in Pittsburgh
How running an NFL team is like running a restaurant | Chef Emeril Lagasse
The Braves dropped the opener 7-6, then needed three runs in the ninth inning Tuesday for a comeback 8-6 win to snap a three-game losing streak
Atlanta got a scare Tuesday when leadoff hitter Ronald Acuna Jr. left the game after getting hit with a pitch on the left elbow. The team said X-rays showed no break
"We'll just see what he feels like in the morning," Braves manager Brian Snitker said
The Pirates, pushing to build for the future, had won three of four games before Tuesday, when they hit four homers but All-Star closer David Bednar blew a save in the ninth
"It's a hard lineup to navigate," Pittsburgh manager Derek Shelton said
It doesn't look to get easier for the Pirates on Wednesday given the pitching matchup
Atlanta left-hander Max Fried (3-1, 1.69 ERA) and Pittsburgh rookie right-hander Quinn Priester (2-1, 8.69) are scheduled to start
After coming off the injured list following a left forearm strain, Fried pitched six scoreless innings Friday against the Chicago Cubs to get the win. He allowed three hits, all singles, struck out eight and walked none
"It's like making a huge trade to get him back," Snitker said. "He's been one of the top starting pitchers in the league for a while now. You miss a guy like that
"That was something else. I really didn't know what to expect. I didn't think he'd be that sharp.
Fried had not pitched since May 5
Despite the long time away, Fried appeared to have the same form he had last year when he was the Cy Young Award runner-up
"I felt sharper than expected," Fried said. "A lot of nervous energy. I was looking forward to (it) for a long time. Really just tried to simplify it and keep us in there as long as we can
"These guys have been doing so good for so long. I just wanted to seamlessly fit in and not mess anything up.
His teammates backed him in an 8-0 Braves win on Friday
Fried is 3-1 with a 4.20 ERA in five career starts against the Pirates
Priester will make his fifth career start and his first appearance against the Braves
Friday against Milwaukee, he did not get a decision after giving up three runs and five hits in four-plus innings. His teammates bailed him out with three homers in a Pirates win
"I fell behind guys more than I wanted to, but at the end of the day we got the outs we needed and minimized the damage a lot, so I was proud of that," said Priester, who had three walks and three strikeouts
He had both a scary and a confidence-boosting moment in the fourth. Milwaukee loaded the bases with no outs on a single and two walks, but Priester got out of it
"He showed me that he's not afraid," Shelton said. "That's not an easy situation -- he's one hit away from coming out of the game at the top of their order.
Priester left after giving up a leadoff homer to Carlos Santana in the fifth
--Field Level Medi