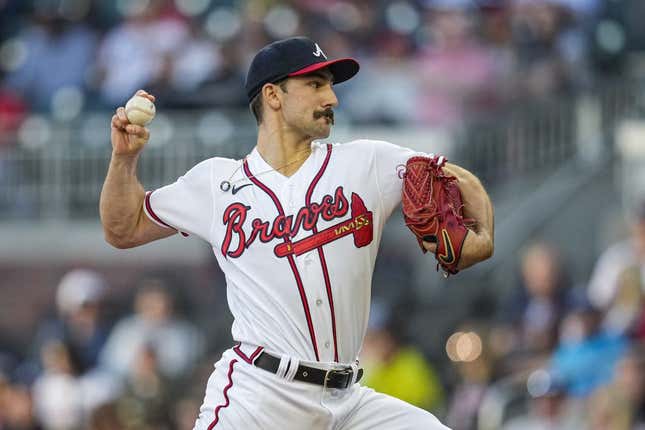 The Atlanta Braves' long weekend in New York will include only two-and-a-half games
Bass' ERA stinks, but not compared to who he is off the mound | Worst of the Week Countdown
The Braves and New York Mets are hoping to finally play baseball Monday afternoon, when the Mets are slated to host a single-admission doubleheader between the longtime division rivals
The middle two games of the originally scheduled four-game wraparound series were each postponed due to steady rain in the New York area. The second game Monday will be a makeup of Sunday's rainout. The rainout Saturday is slated to be made up as part of a doubleheader on Aug. 12, the middle day of the Braves' final visit to New York
Forecasts for Monday afternoon call for clouds but less than a 10 percent chance of rain through 7 p.m. ET.
Spencer Strider (3-0. 1.80 ERA), who was scheduled to start each of the last two days for the Braves, will take the hill for the opener. Charlie Morton (3-2, 2.76), Monday's originally scheduled starter, will start the second game
The Mets will start reliever Denyi Reyes (0-0, 0.00) in Game 1 and Tylor Megill (3-1, 3.96), who was scheduled to oppose Strider on Saturday and Sunday, in Game 2
Mother Nature began impacting the series Friday night, when the Braves earned a 4-0 win in a game called after an 88-minute rain delay following the fifth inning
Assuming the series resumes Monday, the Mets will get their first glimpse this season at the red-hot Strider, who earned the win on April 24 by allowing two hits and striking out 13 over eight innings as the Braves routed the Miami Marlins, 11-0
Strider retired the first 18 batters he faced before Jazz Chisholm Jr. reached on an error by first baseman Matt Olson. The 24-year-old didn't allow a hit until Jean Segura singled with one out in the eighth.
"It's very special," Braves manager Brian Snitker said of Strider. "You don't see that talent come around because it's different.
Morton earned the win last Tuesday, when he allowed one run over seven innings as the Braves beat the Miami Marlins, 7-4
Reyes has eight career major league appearances and one start since making his debut with Baltimore in 2022. He has pitched 6 1/3 innings of scoreless relief in five games for the Mets this season
Megill will be looking to reverse a trend that's become commonplace over his three seasons. The 27-year-old didn't factor into the decision on April 23 when he gave up four runs over four innings as the Mets fell 5-4 to the San Francisco Giants
"Not great," Megill said afterward. "I am just pretty disappointed with today's start."
Megill is 0-1 with a 7.00 ERA in his last two starts after going 3-0 with a 2.25 ERA in his first three starts. Last season, Megill was 4-0 with a 1.93 ERA in five April starts -- including an outing in which he tossed the first five innings of a combined no-hitter -- but 0-2 with a 9.76 ERA in 10 games (four starts) thereafter. As a rookie in 2021, Megill was 1-0 with a 2.04 ERA in his first seven starts but 3-6 with a 6.13 ERA the remainder of the season.
Strider is 2-1 with a 4.30 ERA in five career games (three starts) against the Mets. Morton is 4-5 with a 3.66 ERA in 18 games (17 starts) against New York
Megill is 1-1 with a 3.86 ERA in six games (five starts) against the Braves. Reyes will face Atlanta for the first time
--Field Level Media