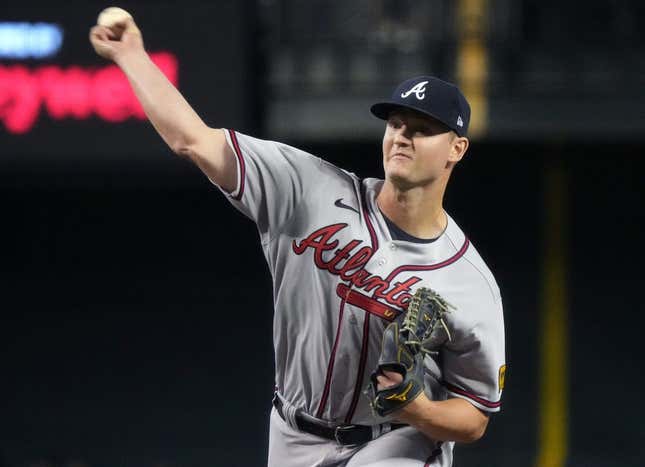 The red-hot Miami Marlins will square off with the even-hotter Braves when the teams begin a three-game National League East showdown in Atlanta on Friday night
How running an NFL team is like running a restaurant | Chef Emeril Lagasse
Miami is coming off a three-game road sweep of the Boston Red Sox, its seventh sweep of the season, and has won five straight games. The Marlins are tied with the Arizona Diamondbacks for the second-best record in the NL and are 19-7 (.731) this month, the franchise's best-ever June winning percentage
"Definitely a confidence level that we have," Miami shortstop Joey Wendle said. "Confidence in each other, confidence that if we don't get the job done that somebody else will. That's passed down from the top. And we've done a good job executing late in games and getting hits when we need it."
The Braves are riding a five-game winning streak, including a three-game sweep against the Minnesota Twins to start the week. Atlanta has won 13 of its past 14 games and has the best record in the NL at 53-27
Atlanta is 20-4 in June with a major-league-high 55 home runs this month. One more homer would tie the franchise record for the most June long balls. Atlanta has 50 homers in back-to-back months for the first time in team history.
"They've just been putting together good baseball," Atlanta manager Brian Snitker said of his players. "I mean, total team-type things -- defense, the bats, the bullpen, starting pitching. Getting the most we can out of those guys. Just good, consistent baseball."
The Marlins, who are in second place in the NL East, are 7-3 over their past 10 games, but they lost two in the East standings to the first-place Braves during that time
Atlanta has dominated the series between the teams, having won six of seven matchups this year after taking 13 of 19 last year. The Marlins haven't won a season series against the Braves since going 10-9 vs. them in 2014
The teams have met in two series this season, with Atlanta winning three of four games at home in late April and then sweeping three games at Miami in early May.
The Braves are expected to call up right-hander Michael Soroka (0-1, 8.38 ERA) to start on Friday against Miami right-hander Bryan Hoeing (1-1, 2.31)
Soroka missed almost three seasons with various ailments, including two Achilles tears, before he was first recalled by the Braves this season on May 29. He made two starts, then was sent back to Triple-A Gwinnett after surrendering five runs in 3 2/3 innings at Arizona on June 4
After being demoted, Soroka made three starts and went 2-0 with a 1.42 ERA for Gwinnett. He carried a no-hitter into the seventh inning against Jacksonville before allowing a two-out solo homer. Soroka was named International League Pitcher of the Week for the period of June 19-25.
He is 2-0 with a 1.07 ERA in five career starts vs. the Marlins, having last faced them in 2019
Hoeing, after working out of the Miami bullpen for six weeks, has made back-to-back scoreless starts. In his most recent outing, on Monday against the Pittsburgh Pirates, he pitched five no-hit innings in a no-decision.
Hoeing is 0-1 with a 10.50 ERA in three career appearances (one start) against the Braves. He was recalled from Triple-A Jacksonville on April 25 and started that night vs. Atlanta, and he gave up four runs over 3 2/3 innings
--Field Level Media