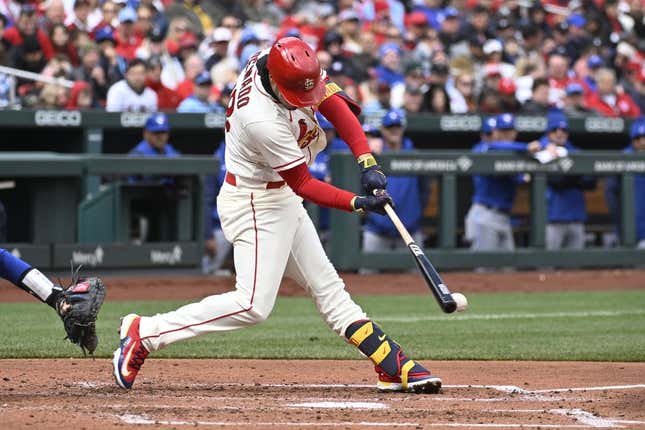 The fortified Cardinals' lineup scored 22 runs over the weekend as St. Louis won two of three games from the Toronto Blue Jays
Bass' ERA stinks, but not compared to who he is off the mound | Worst of the Week Countdown
The Cardinals will try to retain their run-scoring prowess as they continue their homestand Monday night with the first of three games against the Atlanta Braves
St. Louis has a team batting average of .373, which leads the majors.
"Our offense can hang with anybody, and we really believe that," Cardinals third baseman Nolan Arenado said
St. Louis added free-agent catcher Willson Contreras (4-for-8, three runs scored this season) and rookie outfielder Jordan Walker (4-for-12, two RBIs) to their attack.
Second-year infielders Brendan Donovan (5-for-14, two homers, five runs, four RBIs) and Nolan Gorman (4-for-9, two homers, six RBIs) have enjoyed strong starts after making offseason adjustments at the plate.
"We're hitting a lot of balls hard," Cardinals manager Oliver Marmol said. "Guys are taking really tough at bats, they are not leaving the zone, they are making hard contact. Our outs are hard. Overall approach, (we're) using the whole field and doing lots of damage
"It's a pretty scary lineup. You can give guys a day off and it doesn't matter. Guys that are coming in are very productive as well. We feel very good about where we're at. The identity of this club is strong."
Braves manager Brian Snitker offered the same assessment of the Cardinals ahead of the series
"It's a really, really strong lineup," he said. "That's a really good team. You look at that lineup, the offensive power they have, you know, it's really good."
The Braves won two of three games at Washington to start their season, prevailing 7-2 and 7-1 before falling 4-1 Sunday. They will open this series with right-hander Charlie Morton, who was 9-6 with a 4.34 ERA in 31 starts last season
Morton struggled early in 2022 while coming back from a broken leg, but he enjoyed a 14-game stretch from mid-June into September in which he had a 2.84 ERA over 85 2/3 innings.
The Cardinals have not been his favorite opponent over the years. He is 3-12 with a 5.33 ERA in 20 career starts against them
Among the current Cardinals, Arenado (5-for-19, three doubles, homer, three RBIs) has done the most damage against Morton
The Cardinals will counter with right-hander Jake Woodford, who moved into the rotation to replace Adam Wainwright while the latter recovers from a groin muscle strain
Woodford was 4-0 with a 2.23 ERA in 2022 while seeing 26 of his 27 appearances out of the bullpen. In his one career appearance against the Braves, he allowed one run on two hits and two walks in two innings
A strong spring training positioned Woodford to step up. He struck out 18 and walked five in 17 2/3 innings while allowing four runs on 13 hits.
"I wasn't necessarily trying to prove anything, I was just trying to trust my stuff and go out there and compete," Woodford told the St. Louis Post-Dispatch. "I feel like I worked extremely hard this offseason. It's one of those situations where I felt like if I just stuck to my routine and continued to try to get better every day and work on what I was working on, I was going to have good results."
Outfielder Lars Nootbaar (jammed thumb) and reliever Giovanny Gallegos (back spasms) remained sidelined for the Cardinals on Sunday but could be available Monday
--Field Level Media