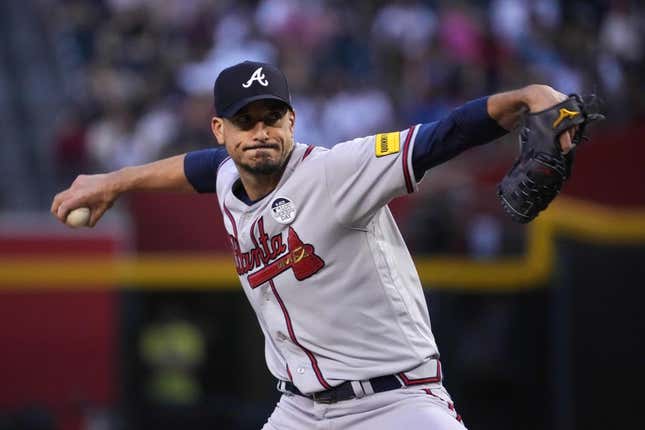 The Atlanta Braves will be looking to start a new winning streak. The Detroit Tigers are desperate for a single victory
How running an NFL team is like running a restaurant | Chef Emeril Lagasse
They'll meet up in Detroit for a three-game series, beginning Monday night.
The National League East-leading Braves had their seven-game winning streak snapped by Washington on Sunday, 6-2
"When you come into these division games, I feel like guys are a little more locked in," Austin Riley said. "At the end of the year, you want to be at the top. That's the goal. It always starts there. (Braves manager Brian Snitker) has always said that you have to win the division first. Then you move on from there. So there are definitely asterisks on those games.
Marcell Ozuna will carry an eight-game hitting streak into the series. He's raised his season average to .242 after getting benched earlier this season.
"He had a great attitude about everything," Snitker said. "When he wasn't playing, he was right there on the bench with the guys continuing to work. I'm happy for him after everything he's gone through to see where he's come."
Charlie Morton (5-6, 3.89 ERA) will start the opener. The 39-year-old Atlanta right-hander has three losses and a no-decision in his last four starts.
In his last outing Wednesday, Morton gave up four runs -- including two home runs -- and four hits in 4 2/3 innings. He also walked four while striking out five.
Morton has continued to rack up strikeouts lately -- he has at least nine in three of his last five starts.
He's only faced the Tigers four times in his career, going 1-2 with a 2.00 ERA
Detroit, which has been decimated by injuries, hasn't listed a starter for Monday's game. Manager A.J. Hinch will use a parade of relievers.
The Tigers will be looking to snap a nine-game losing streak. The most recent loss may have been the toughest to swallow. They led 5-3 entering the ninth on Sunday but Arizona scored four runs to hand them a 7-5 loss
"We're in that part of the season where the games are kind of meshing together and one thing happens and it leads to a little bit of frustration," said Zach McKinstry, who hit a two-run homer in Sunday's defeat. "A nine-game losing streak is tough. But we'll come back tomorrow and be ready."
Kerry Carpenter had eight hits in the series after coming off the injured list.
Javier Baez had a hit and drove in a run but also struck out three times. Baez is hitting just .220 with four home runs and a .262 on-base percentage in his second season with Detroit.
Hinch has little choice but to keep putting Baez in the lineup and hope for better results.
"We have to continue to ride it out and continue to encourage him. It's not going to get easier with the pitching we're facing," Hinch said. "But history has told us that he has snapped out of these stretches with massive hot streaks. We certainly need that."
Detroit's offense could get another boost Monday as utilityman Matt Vierling is expected to come off the injured list. He's been sidelined by a back ailment.
--Field Level Media