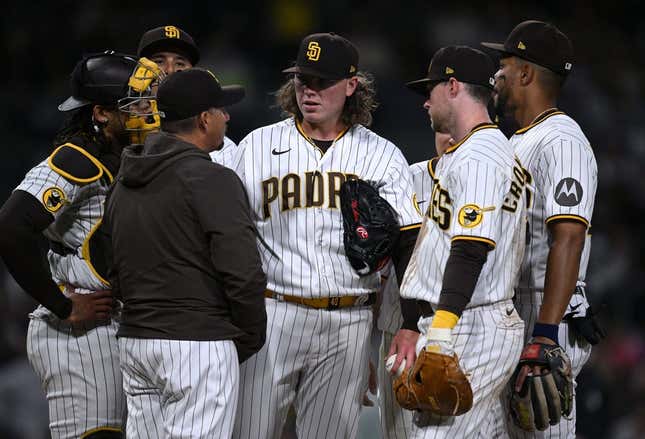 When the San Diego Padres departed Atlanta on Easter Sunday, they were riding a high, having taken three of four games in the Braves' first home series of the season
Bass' ERA stinks, but not compared to who he is off the mound | Worst of the Week Countdown
Since then, however, the Padres are 2-5 and have scored three runs or fewer in each of the losses -- twice getting shut out. The Braves, meanwhile, have gone 6-0
There is a bit of an asterisk. The Padres played the Mets and Brewers while the Braves were sweeping the Reds and Royals with a day off thrown in
So, the stage is set for the three-game Braves-Padres rematch that begins Monday night in San Diego. The Braves need to extend their winning streak to nine straight games to claim the season series from the Padres. What the Padres need is a change of fortune
"Disappointing," was the first word out of Bob Melvin's mouth Sunday afternoon after the manager's Padres were shut out by the Milwaukee Brewers 1-0 to lose for a third time in four games at home
Things are not going the way the Padres or their fans expected
Juan Soto is hitting .172. Manny Machado has one homer and seven RBIs after 17 games. Fernando Tatis Jr. doesn't return from his PED suspension until April 20. And Joe Musgrove is still on the injured list.
The Padres will open the series Monday with left-hander Ryan Weathers (1-0, 2.70 ERA), who normally would be No. 7 on the rotation depth chart. But in addition to their other problems, the Padres are at game No. 12 in a run of 18 straight games without a scheduled day off
Plus, the Padres have no advance knowledge of who is pitching the series opener for the Braves, who are TBA in the pitching matchup
But the Braves have regained their momentum
"After a solid start, we didn't play as well as we needed to when we came home to play the Padres," said Braves manager Brian Snitker, whose ballclub is 11-1 against everyone else on their schedule thus far
As for the Padres, they have played before eight home sellouts and are averaging 42,034 fans for their first 10 home games. And their record at home: 4-6
The Padres are 2-0 in Weathers' first two starts. His win came in New York against the Mets in his most recent start on April 11. He held the Mets to one run on three hits and two walks over five innings. Over his first two outings, the former first-round pick has given up three runs on eight hits and five strikeouts in 10 innings
Weathers is making something of a comeback at the age of 23. After making 30 major league appearances (18 starts) as a 21-year-old in 2021, Weathers made one spot start in all of 2022.
"He came to spring training this year with a different attitude," said Melvin. "Nothing was promised him. We talk about his demeanor and coming to spring training and earning his keep and fighting for everything. I think it showed up in his last start against the Mets.
"He's got a good fastball. He's been working on his off-speed stuff which is important to him. I'd like to see maybe a little more consistency in the zone."
--Field Level Media