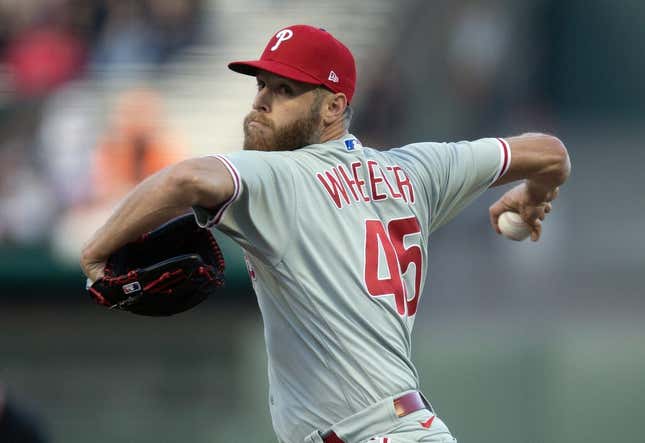 Atlanta's Charlie Morton and Philadelphia's Zack Wheeler will go head-to-head on Saturday when the Braves host the third game of a four-game set between the National League East rivals
How running an NFL team is like running a restaurant | Chef Emeril Lagasse
The teams have split the first two contests, with the Braves winning 8-5 on Thursday and the Phillies winning 6-4 on Friday
Morton (5-4, 3.61 ERA) and Wheeler (3-4, 4.11) have a combination of 25 seasons and 536 starts in the major leagues. Both are right-handers.
Morton has been the de facto ace of the Braves' staff with Max Fried and Kyle Wright on the injured list. Morton is coming off his worst outing of the year when he allowed six runs in five innings against the Los Angeles Dodgers on Monday. It marked the most runs allowed in a game by him this season
Morton is 5-6 with a 4.81 ERA in 17 career starts against Philadelphia. Last season, he made five starts against the Phillies and went 0-1 with a 5.47 ERA in 26 1/3 innings
Wheeler has lost two straight decisions, most recently on Monday against Arizona. He pitched six innings and allowed four runs (three earned) on eight hits, one walk and had three strikeouts. The problem was two homers, twice what he had allowed all season.
"I thought he was better than the line," Philadelphia manager Rob Thomson said. "There were a lot of soft hits. They did a nice job to get his pitch count up, but he fought through six, and that was huge for us."
Wheeler is a native of Atlanta who grew up as a Braves' fan. He is 10-7 with a 3.16 ERA in 24 career starts against Atlanta. He was 2-0 with a 2.70 ERA in three starts against the Braves in 2022, striking out 25 and walking only one in 20 innings
Philadelphia closer Craig Kimbrel, who began his career with Atlanta, became the eighth player to reach 400 saves when he finished off the Braves on Friday. Kimbrel allowed a walk but got Ronald Acuna Jr. to end the game on a harmless ground ball. It was Kimbrel's sixth save this season
His Philadelphia teammates celebrated by dumping water on Kimbrel's head, and he didn't seem to mind.
"That's the first time I've gotten that," Kimbrel said. "As pitchers, we're not used to hitting walk-off homers. I just soaked it in. I thought it might be coming but kind of forgot about it in the middle of the inning."
Atlanta's Marcell Ozuna continued his torrid stretch at the plate. Ozuna went 3-for-4 with his 11th homer and lifted his batting average to .238. He has homered in three straight games and nine times in 19 games in May. He has hit safely in 12 of his last 13 games.
Atlanta also saw positive signs from Michael Harris II, who spent time on the injured list with a back injury and saw his average slip to .163 on Monday. Harris has been working on his swing with Hall of Famer Chipper Jones, and he delivered a pair of opposite-field hits on Friday, one of them a home run.
"Good for him," Atlanta manager Brian Snitker said. "You know he's going to hit. Hopefully it's a good steppingstone for him."
--Field Level Media