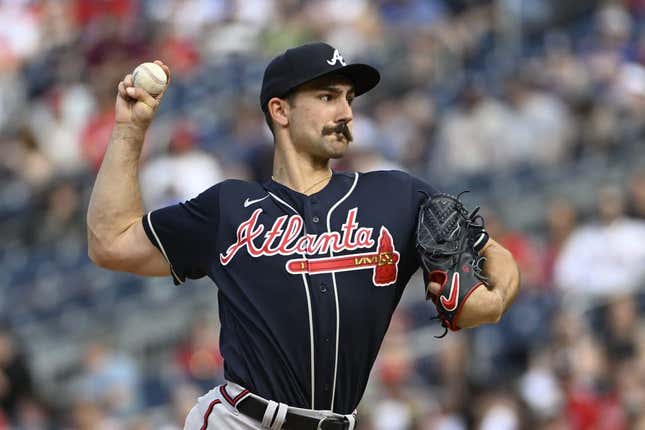 The Atlanta Braves are off to a fast start as they enter their home opener on Thursday against the San Diego Padres, who have been up and down over the game's first week
'Soccer fandom is full of gatekeepers' says Ted Lasso actor Brendan Hunt
The Braves concluded a 5-1, season-opening road trip by defeating the Cardinals 5-2 on Wednesday afternoon to complete a three-game series sweep in St. Louis
"It's a good way to go into the home opener," Braves manager Brian Snitker said
Meanwhile, the Padres went 3-3 in a six-game homestand, capped by a disheartening defeat on Tuesday. San Diego blew a 5-1 lead, giving up seven straight runs to the Arizona Diamondbacks while playing some uncharacteristically poor defense in an 8-6 loss
The Padres committed one error but could have been charged with three, and the Diamondbacks stole five bases
"That ended up being an ugly game for us," San Diego manager Bob Melvin said. "We felt like we had it in hand. We gave up too many runs with the lead."
The Padres now head into a seven-game road trip to face two National League East teams that each won 101 games last season. San Diego plays four games in Atlanta before visiting the New York Mets for three
The Padres had a 4-3 season edge over the Braves last year and won two of three games in New York to eliminate the Mets in the wild-card round of the 2022 playoffs
San Diego's trip opens Thursday with Padres left-hander Blake Snell (0-1, 6.21 ERA) going against Atlanta right-hander Spencer Strider (1-0, 0.00)
Strider, 24, finished second in the 2022 National League Rookie of the Year voting. He went 11-5 in 31 appearances (20 starts) with a 2.67 ERA, a 0.995 WHIP and a .180 opponents' batting average with 202 strikeouts over 131 2/3 innings -- an average of 13.8 strikeouts per nine innings. He gave up only 86 hits and 445 walks while logging a 4 1/2-to-1 strikeout-to-walk ratio.
In two relief appearances against the Padres, he allowed two runs on two hits and three walks over 4 2/3 innings
In his first appearance this season, Strider shut out the Washington Nationals on three hits and three walks with nine strikeouts over six innings during a 7-1 victory on Saturday.
With Joe Musgrove (fractured toe) and Yu Darvish (late return from WBC) unavailable, Snell was the Padres' Opening Day starter. He gave up three runs on six hits and a walk with nine strikeouts in 4 1/3 innings against the Rockies
With Joe Musgrove (fractured big toe) and Yu Darvish (late return from the World Baseball Classic) unavailable, Snell got San Diego's Opening Day starting assignment.
Part of that decision was the Padres' desire to get Snell off to a faster start. Snell is 22-30 with a 4.08 ERA in the first half of seasons in his career compared with a 31-15 record and a 2.68 ERA in the second half
"He came into spring training with a different attitude," Melvin said recently of Snell. "Every start is as important as the ones in September. Down the stretch, Blake has always been one of the toughest pitchers in the game."
Snell had a 2.19 ERA over his last 14 starts last year -- and a 5.22 mark before that.
He opened this year with a rocky outing against Colorado. Snell gave up three runs on six hits and a walk in 4 1/3 innings, but he struck out nine.
Snell has started against the Braves only once in his career, when he allowed one run on four hits over 6 1/3 innings on May 8, 2018
--Field Level Media