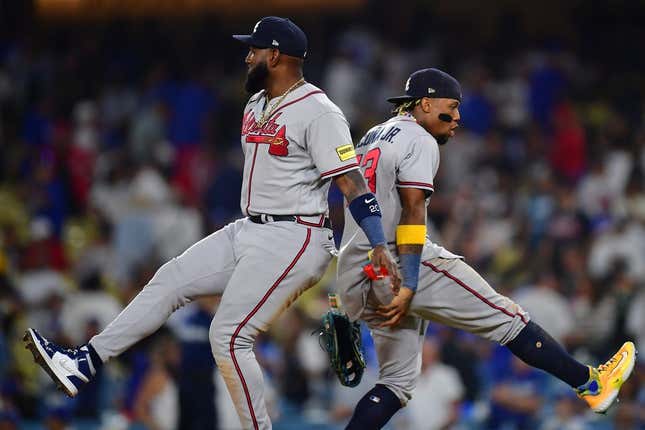 About a month ago, the Atlanta Braves' Ronald Acuna Jr. appeared to be the runaway winner of the National League MVP award, until Los Angeles Dodgers star Mookie Betts put together a historic August.
How running an NFL team is like running a restaurant | Chef Emeril Lagasse
Acuna and Betts will continue to settle their differences in the chase for the top award on Saturday when the visiting Braves meet the Dodgers for the third contest in a four-game series.
In the first two days of his visit to Los Angeles, Acuna appeared to move back atop the MVP chase after belting a grand slam in Thursday's 8-7 win over the Dodgers and a home run in Friday's 6-3 victory. He is 5-for-8 with two walks in the past two games.
Betts hit two home runs Thursday but went 0-for-3 in Friday's loss.
Acuna's MVP resume includes the first 30-homer, 60-steal season in baseball history. He also has a 1.001 OPS for the Braves (89-45), who boast the best record in the majors.
Betts has an NL-best 1.028 OPS for the Dodgers (83-51), as well as that monster August with a .455 batting average, 11 home runs, 51 hits and 35 runs — all of which led the major leagues.
"I think the thing we have seen is that they are aggressive to the fastball," Dodgers manager Dave Roberts said of the Braves as a whole. "They don't chase as much as I recall and they do a good job staying in the strike zone. You have to make pitches and you can't give away outs. You look at the first two games we've given away outs, we've given away bases and you can't do that against a team like that."
Atlanta is set to send right-hander Bryce Elder (11-4, 3.50 ERA) to the mound Saturday as he looks to continue his impressive first full season. But it was an up-and-down August with a 3-2 record and a 4.88 ERA in five starts.
In his most recent effort, Elder gave up four runs on eight hits over six innings before ending up with the win over the Colorado Rockies.
Elder's only appearance against the Dodgers came on May 24, when he gave up one run in six innings with a no-decision during an eventual 4-3 Atlanta victory. Now he enters this series after Spencer Strider and Max Fried recorded solid starts.
"I don't think you ever set the tone against these guys," Braves manager Brian Snitker said. "I never felt good with just six runs (Friday). As long as they still have an out left, they are so dangerous, as we saw. But (Fried's outing) was really good because we had some guys down in the bullpen so that was huge, that start was."
The Braves are not only on a five-game winning streak, they have won nine of their past 10.
The Dodgers have not named a starter for Saturday's game. Right-hander Emmet Sheehan, however, was added to the expanded roster Friday and could be used either as a starter or to pick up bulk innings after an opener.
Sheehan (3-1, 5.63) has made eight appearances (seven starts) in his rookie season but has yet to face the Braves.
"As far as collectively with the pitching, I think we can do a better job of preventing runs," Roberts said. "We haven't in these first two games and their starting pitching, you can argue, is probably the best in baseball."
—Field Level Media