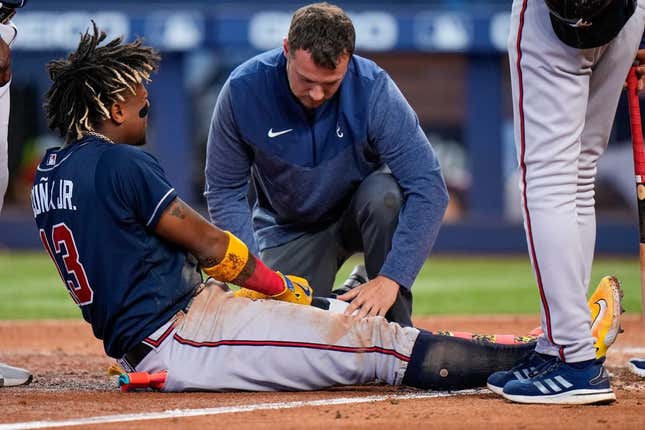 For the second time in four days, Atlanta Braves outfielder Ronald Acuna Jr. avoided a serious injury
'Soccer fandom is full of gatekeepers' says Ted Lasso actor Brendan Hunt
Acuna fouled a ball off his left knee in the sixth inning of Thursday's 6-3 Atlanta win over the host Miami Marlins. He grabbed at his leg for a while but stayed in the game to complete his at-bat and manned right field for the bottom of the sixth.
He was then removed in the seventh inning as a precaution, and manager Brian Snitker later told reporters that Acuna will be fine. Snitker said Acuna was having problems bending his knee and the Braves wanted to be careful and start treating the knee right away
That caution is understandable after Acuna also left the second game of a doubleheader against the New York Mets on Monday when he was hit in the left shoulder blade with a pitch. Acuna was considered day-to-day but was in the lineup for the Braves' series opener Tuesday at Miami
Before his exit Thursday, Acuna stole his 15th base and scored his 29th run of the season, extending his major-league lead in both categories. He finished 1-for-3 with an RBI against the Marlins and kept his batting average at .355.
--Field Level Media