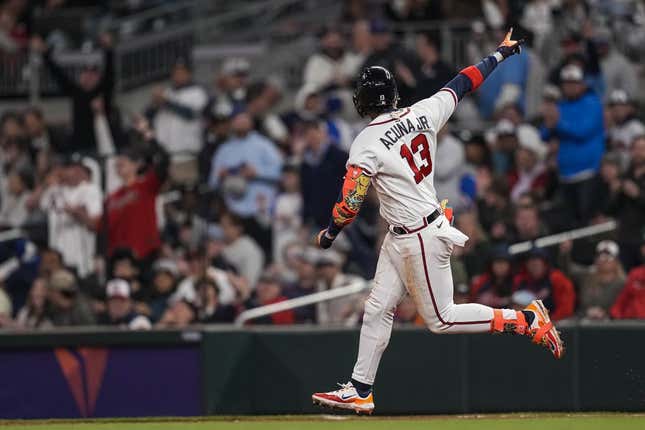 The Atlanta Braves will send right-hander Kyle Wright to the mound on Thursday afternoon to go for a four-game sweep of the visiting Miami Marlins
'Soccer fandom is full of gatekeepers' says Ted Lasso actor Brendan Hunt
Atlanta stunned the Marlins on Wednesday by scoring four times in the eighth inning to come back from a 4-0 deficit and take a 6-4 win. A victory on Thursday would give the Braves their first four-game sweep over Miami in Atlanta since August 2018. The Braves had a four-game sweep against the Marlins last year in Miami
"We just trust in ourselves," said Atlanta shortstop Vaughn Grissom, who produced the go-ahead single during Wednesday's eighth-inning rally. "We're never out of a fight. That's the best part of us and one through nine, we can rake, and we can play defense as well."
Wright (0-1, 5.93 ERA) will face left-hander Braxton Garrett (1-0, 2.84) in the series finale.
Wright has struggled to regain the form he showed a year ago as a 21-game winner. After starting the season on the injured list because of right shoulder inflammation, Wright has made three starts. He took the loss in his last outing on Saturday against the Houston Astros when he allowed four runs (three earned) over five innings.
"It just comes down to I've got to finish," Wright said. "I knew the sixth inning was likely to be my last. So, you've got to know when it's time to empty the tank and find a way to finish. I think I did a poor job of finishing."
Wright is 2-2 with a 3.75 ERA in five career starts against Miami. He went 2-0 against the Marlins last season, throwing 11 shutout innings with 17 strikeouts
"There's not a whole lot of super exciting things about losing for me," Wright said. "But it was another good step in the right direction. The harder you throw, the harder it is to hit, usually. I just need to continue moving in that direction."
Garrett began the season in the bullpen, but moved into the rotation when Johnny Cueto was placed on the injured list, and the former first-round draft pick is off to a good start.
Although he has not yet pitched more than 5 2/3 innings in his first three starts, Garrett has not allowed more than two runs in a game. He picked up his first win of the season in his last start on Saturday in the second game of a doubleheader at Cleveland. Garrett pitched 5 2/3 innings and allowed one run.
"It's been so awesome," Garrett said. "So fun."
Garrett is 0-2 with a 3.29 ERA in three career starts against Atlanta. He was 0-1 with a 1.69 ERA in two starts against the Braves in 2022
According to Elias, Atlanta's 302 wins against Miami since the start of the 1993 season are its most against any one team in baseball. Only the New York Yankees have more victories -- 310 against Baltimore -- against another club during that stretch.
The two National League East rivals will meet again next week for a three-game series that begins Tuesday in Miami.
--Field Level Media