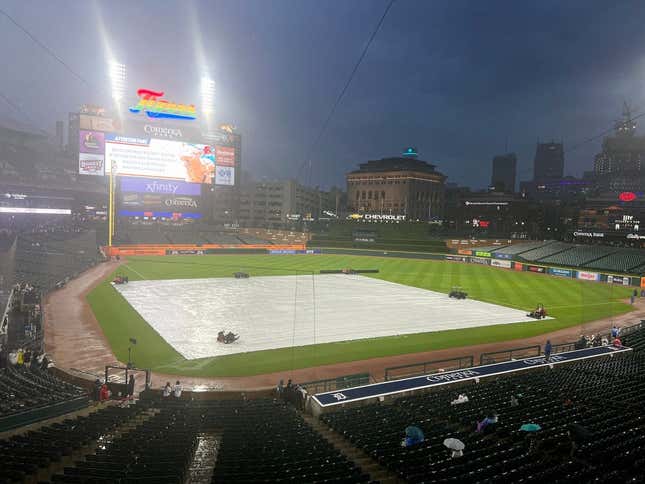 Following a long delay that proved fruitless, the Atlanta Braves and Detroit Tigers will play two games on Wednesday afternoon
How running an NFL team is like running a restaurant | Chef Emeril Lagasse
The teams waited more than two hours before their scheduled game in Detroit on Tuesday night was postponed. They will play a straight doubleheader on Wednesday.
The Tigers rallied to win the series opener 6-5 in 10 innings on Monday night to snap a nine-game losing streak
Atlanta will go with major league strikeout leader Spencer Strider in Game 1. Rookie AJ Smith-Shawver might take his regular turn in Game 2, though as of Tuesday night no starter had been named. Neither of them has faced Detroit before.
Strider (6-2, 3.79 ERA) has racked up 121 strikeouts in 13 starts.
The right-hander has been susceptible to giving up the long ball lately, and it cost him in his most recent outing. He surrendered a career-high eight runs and eight hits, including two homers, in four innings against the New York Mets on Thursday. He was spared a loss when the Braves rallied to win 13-10 in 10 innings
If Smith-Shawver (0-0, 0.00) goes, he would be making his third career appearance and second start for the Braves
The 20-year-old right-hander tossed 2 1/3 innings of scoreless relief against the Arizona Diamondbacks on June 4, then allowed just two unearned runs in 5 1/3 innings against the Washington Nationals in his first start on Friday.
"I don't think the feeling I had out there was normal comparatively to anywhere I pitched in the minors," he said. "I think I started settling in during the second inning."
While Smith-Shawver dominated during his fast track through the minors, getting out major league hitters is a tougher chore. He recorded only two strikeouts against the Nationals while throwing 86 pitches.
"He's going to have to be more refined, be more consistent in the zone and hit with his secondary pitches better, as many other young guys do," Braves manager Brian Snitker said. "He's learning on the job here.
Smith-Shawver made seven starts this season at three different minor league levels, just two with Triple-A Gwinnett. He mainly relies on his fastball and slider, with an occasional curve and changeup mixed in.
Detroit's starting pitchers for the doubleheader will be veteran right-hander Michael Lorenzen (2-3, 3.75) in the opener and then rookie right-hander Reese Olson (0-1, 2.70).
Olson is scheduled to make his third career appearance and second start for the Tigers. Manager A.J. Hinch used an opener in the first inning of Olson's latest outing on Thursday at Philadelphia. Olson then came in and allowed just one run, three hits and a walk in five innings. He struck out three Phillies
Lorenzen gave up six runs in 6 2/3 innings to Arizona on Friday, but his outing was better than the stats show. He limited the Diamondbacks to two runs and three hits through the first six innings. Lorenzen retired 12 straight batters before tiring in the seventh.
"You'd hope to get a better pitching performance out of me when (the offense) turns it on like that," Lorenzen said after Detroit's 11-6 loss. "Frustrated with myself for not being able to finish it off."
Lorenzen delivered quality outings in five of his previous six starts. He has faced the Braves nine previous times in his career, giving up three runs over nine innings
Atlanta's Marcell Ozuna will look to extend his nine-game hitting streak. Ozuna was hit on the right wrist by a pitch on Monday, but he could be available on Wednesday.
"It's just bruised and a little swollen," Ozuna said. "We'll see what happens the next couple of days."
--Field Level Media