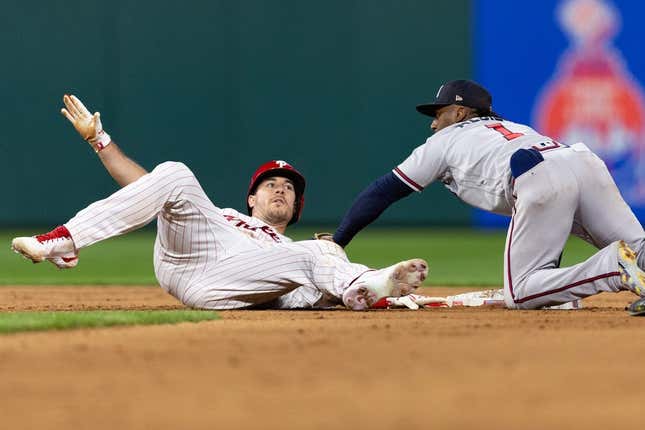 The Atlanta Braves will look for their eighth consecutive victory when they battle the host Philadelphia Phillies in the middle game of a three-game series on Wednesday evening
How running an NFL team is like running a restaurant | Chef Emeril Lagasse
Matt Olson and Austin Riley each blasted long solo home runs for Atlanta in a 4-2 victory Tuesday that snapped the Phillies' six-game winning streak
Olson has nine homers in 57 career at-bats at Citizens Bank Park. Riley, who also has enjoyed career success in Philadelphia, hit his first home run since June 8.
"When we come to the yard, whether it's at home or here, it's a playoff atmosphere," Riley said in a postgame interview on Bally Sports. "I don't know if it's a focus level, but I like playing here."
"Everybody in here understands the team we are," Olson added. "It feels like we're taking the next step to reaching our potential."
The Braves will hand the ball to 20-year-old rookie AJ Smith-Shawver (1-0, 2.03 ERA) on Wednesday. In his most recent start, he gave up six hits and three runs in 5 2/3 innings Thursday against the Colorado Rockies for his first big-league win
"I settled down a little bit," Smith-Shawver said after the outing. "I didn't think I had my best stuff in my last start. The more starts you get, the more comfortable you get on the mound. One slider I left hanging, but I tried to minimize those pitches and give us a chance to win."
Smith-Shawver has never faced the Phillies
Braves catcher Sean Murphy continued to be sidelined with a strained hamstring, though he appears to be getting closer to a return
"No promises on any day (to return)," Murphy said. "But the way we're progressing, hopefully I feel good enough soon."
The Phillies will look to rebound and even the series
In Tuesday's loss, the Phillies managed 11 hits -- three by Brandon Marsh -- but they finished 1-for-12 with runners in scoring position and eight left on base
"We had our chances," Phillies manager Rob Thomson said. "We had some hits -- just couldn't come through.
Marsh came through with some solid swings.
"He's starting to be a little more aggressive at the plate in the strike zone," Thomson said. "That's what we want him to do."
Bryce Harper added two hits, but he has only three home runs in 156 at-bats since returning from offseason Tommy John surgery. He is batting .301.
"I feel good," Harper said. "The power numbers aren't there. But I feel strong. I feel good."
Right-hander Aaron Nola (6-5, 4.66 ERA) is scheduled to start for Philadelphia on Wednesday. In his most recent start, Nola allowed six hits, four runs and struck out nine in 6 2/3 innings Thursday in a 5-4 win against the Arizona Diamondbacks.
"It just happens as the year goes on, you get more reps and start finding new things," Nola said.
Nola has started 31 games against the Braves, posting a 15-10 mark and a 3.51 ERA. He has started more games against the Braves than vs. any other major league team
Harper has played exclusively as a designated hitter since returning, but he could receive some starts at first base after the All-Star break.
It could be sooner, however.
"He's made me a liar so many times because he's such a quick healer," Thomson said. "I don't know."
--Field Level Media