Ravens LB Brendon Ayanbadejo made headlines last summer when he very publicly announced his support of Maryland's gay-marriage referendum. Now he's opening himself up to an even more hateful bunch of opponents—Pats fans. (See?) Ayanbadejo didn't even wait for New England to finish its asskicking of Houston before taking to Twitter to trash-talk the Patriots organization:
This is of course the same "gimmick" that beat the Ravens in last year's AFC Championship. Is the hurry-up offense really a gimmick? It's been around since the late '80s, and the Broncos worked the no-huddle pretty effectively on Saturday—the Ravens linebackers and secondary looked pretty gassed by the end of regulation. Not that Ayanbadejo would know—he's almost exclusively a special-teamer these days.
Ayanbadejo brought out the big guns to try and connect the New England offense—consistently one of the league's best over the last decade—to the organization's cloak-and-dagger reputation.
G/O Media may get a commission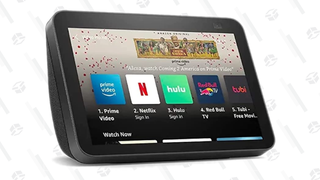 Burn? The Patriots aren't biting, because they're not six-year-old. J.J. Watt spitting on their logo didn't motivate them to a victory. If there's anyone in the world who needs a one-sided Twitter rant to get fired up for a conference championship, they probably never made it to the NFL in the first place.
Ayanbadejo's wasn't done. As a parting shot, he broke out the Gjallarhorn of Patriots smack talk. The one dagger sure to hit home. The short phrase guaranteed to rankle New England fans until end of time, even if they win the next 10 Super Bowls: