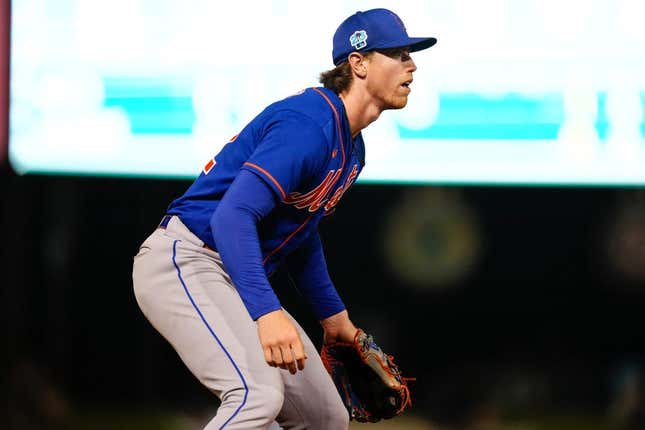 Third baseman Brett Baty is expected to make his highly anticipated season debut on Monday when the visiting New York Mets begin a three-game series against the Los Angeles Dodgers
Chris Paul should ride the bench next season | Keep it a Buck(et)
The 23-year-old Baty was reportedly recalled from Triple-A Syracuse on Sunday after batting .400 with five homers and 15 RBIs in nine games. The team's No. 2 prospect according to MLB Pipeline is set to receive the bulk of the playing time at third base in place of struggling Eduardo Escobar.
Escobar is 6-for-48 with one homer in 14 games for the Mets, who have won four straight. Escobar expressed support for the team's newest arrival before Sunday's 4-3, 10-inning win over the Oakland Athletics
"I'm happy for Baty -- he deserves it," Escobar said through an interpreter. "He really listens a lot to all the advice we give him here and I am hoping that when he comes up he's able to contribute and help the team win games."
New York had hit a total of 15 homers through 15 games before going deep three times in Sunday's victory.
The team is hoping Baty's arrival provides another consistent source of power in the lineup next to first baseman Pete Alonso, who hit his major-league-best eighth homer in Sunday's win. Alonso is now tied with Dave Kingman for the fifth-most homers in franchise history with 154.
The Mets will send left-hander David Peterson (0-2, 4.91 ERA) to the mound in the series opener. He gave up two runs on six hits over 5 2/3 innings in New York's 4-2 loss to the San Diego Padres last Tuesday. Peterson did not factor into the decision
"I thought (Peterson) was key to us being in that game," Mets manager Buck Showalter said. "He really pitched well, attacked, good to see him get after it (Tuesday) the way he can.
Peterson, 27, will be making his second career start against the Dodgers. He allowed four runs (one earned) on two hits with four walks and six strikeouts through 3 2/3 innings against Los Angeles on June 4, 2022
Los Angeles will counter with right-hander Dustin May (1-1, 1.47), who allowed two runs on two hits and four walks over 5 1/3 innings in a 5-0 loss to the San Francisco Giants last Tuesday.
"I never really found myself," May said. "They were just swinging at balls that were in the zone. Just got to throw more strikes."
May, 25, began the season by allowing only one run in his first two outings across 13 innings. He is making his first career start against the Mets after throwing one inning of relief against them back on Sept. 15, 2019
The Dodgers lost two of three to the Chicago Cubs over the weekend and will be without catcher Will Smith for at least this series after he was placed on the seven-day injured list due to concussion-like symptoms prior to Sunday's game. The move was made retroactive to last Thursday
Veteran catcher Austin Wynns was signed to replace Smith on the roster. The Dodgers will have a definite hole in the lineup minus Smith, who is batting .333 with three home runs and 12 RBIs in 11 games
"To not have Will in the lineup, it's a big blow," Dodgers manager Dave Roberts said. "I think that if you look at a lot of our guys -- again, this is 15 games -- it's been very inconsistent, and Will is a consistent performer. So yeah, we need all of our guys to show some consistency, that'd be great.
--Field Level Media