Brett Lawrie sprained Alcides Escobar's knee with a hard slide Friday night, but did he apologize for it?
Lawrie claims he texted Escobar after Friday's game with a mea culpa. But before Saturday's Royals-Athletics game, Escobar said he never received a text. And he pulled out his phone to prove it. Here's more, via MLB.com:
From Escobar: "No, he don't say nothing. I don't hear nothing from him. Yeah, I'm surprised because when you do a guy like that you say, 'My bad.' He don't say nothing. I don't know why."
But Lawrie pulled out his phone to prove he sent the text. And someone even responded to the apology!
"I reached out to him [Friday] night in a text message, and he got it," said Lawrie. "I have the text message. I did reach out to him, and I sent a number of paragraphs and he messaged me back and he didn't really seem to care about my apology to him. He actually said it was stupid and that it was intentional.
"He actually thought I did it on purpose, and I sent him another message back and said, 'I'm never out to get anyone, man. I've known you since Milwaukee. Every time I see you, we wish each other best of luck.' I'm the one who extended myself out there."
G/O Media may get a commission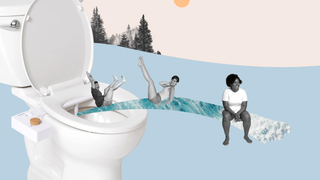 17% off
Tushy 3.0 Warm Water Spa Bidet Attachment
It's seems pretty weird that Escobar would insist on never receiving an apology text. But perhaps it's even more weird that Lawrie sent out an apology and someone who isn't Escobar responded.
Someone who can't be forgotten in this sordid tale is Royals first baseman Eric Hosmer, who gave Lawrie what was presumed to be Escobar's number. Either Hosmer made an honest mistake—or this is all part of an elaborate catfishing ploy.
Also, who is pretending to be Alcides Escobar??
[MLB.com]