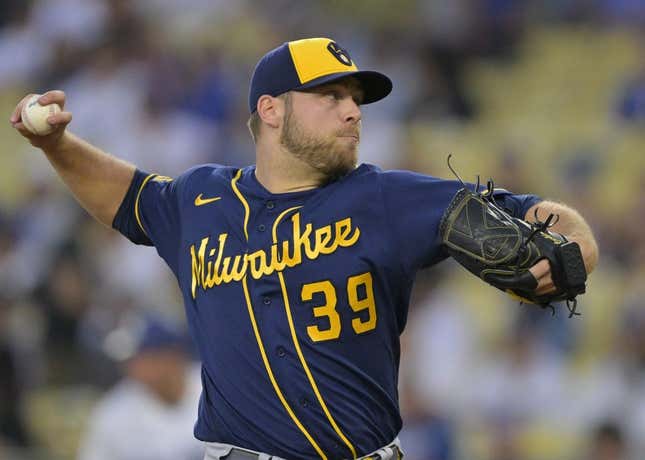 The Milwaukee Brewers will turn to ace right-hander Corbin Burnes to extend their winning streak when they host the Minnesota Twins on Wednesday afternoon in the finale of a two-game interleague series between division leaders.
Is Texas or Florida State a bigger national title contender? | Agree to Disagree
Burnes (9-6, 3.43 ERA) will be opposed by right-hander Kenta Maeda (3-7, 4.13).
Milwaukee took the opener 7-3 on Tuesday night, bunching six singles for a five-run rally in the sixth inning. The Brewers, returning home after a 6-3 road trip, won their fourth straight to move a season-high 12 games above .500.
"We caught some breaks (in the sixth) inning, no question about it," Brewers manager Craig Counsell said. "Some softly hit balls found some holes. But kept putting it in play, and once in a while you get rewarded for that."
Milwaukee's Willy Adames hit a two-run homer in the first, reaching the 20-homer mark for the third consecutive season. Adames is batting .310 (13-for-42) with three homers and nine RBIs over his past 11 games.
Milwaukee, which has won eight straight interleague games, extended its lead in the NL Central to 3 1/2 games over the Chicago Cubs, who lost at Detroit 8-6 on Tuesday. Minnesota, the only team in the AL Central with a winning record, is five games in front of the Cleveland Guardians, who defeated the Los Angeles Dodgers 8-3.
Burnes is 4-1 with a 2.34 ERA in his past nine starts. In his latest outing, he allowed just two hits en route to seven scoreless innings with nine strikeouts, but he did not get the decision in the Brewers' 1-0 loss to the Dodgers on Thursday.
"Got a little better in the second (inning) and then it just kind of took off and he was great, especially those last four innings was just outstanding," Counsell said after that contest.
Burnes is 2-1 with a 2.96 ERA in five career games, including four starts, vs. the Twins. He faced Minnesota once this season, leaving with a 5-3 lead after allowing three runs in six-plus innings, but the Milwaukee bullpen allowed four runs in the ninth for a 7-5 loss.
Maeda is 3-2 with a 2.54 ERA in his eight career starts against the Brewers.
In his most recent start, Maeda allowed three runs on seven hits, including two homers, in four-plus innings but did not get a decision in an 8-7 loss to Detroit on Aug. 16.
"Probably taken out earlier than he wanted to be taken out, but he threw a ton of pitches in a short period of time and had to battle through some long at-bats," Twins manager Rocco Baldelli said afterward. "He worked hard, just to get to that point, I would say."
In his last seven starts, Maeda is 1-2 with a 3.19 ERA.
Jordan Luplow doubled and scored in the fourth to put the Twins up 3-2 on Tuesday. The left fielder is hitting .292 (7-for-24) with three extra-base hits in 10 games since being claimed off waivers from the Toronto Blue Jays on Aug. 4.
Twins reliever Oliver Ortega departed after two-thirds of an inning on Tuesday when his lower back tightened up. Ortega, who threw 25 pitches and walked three, was due to be assessed.
"I think he's probably going to be OK in a few days," Baldelli said. "Does that mean an (injured-list) stint or do we kind of work our way through it? There's no way to know that yet."
—Field Level Media