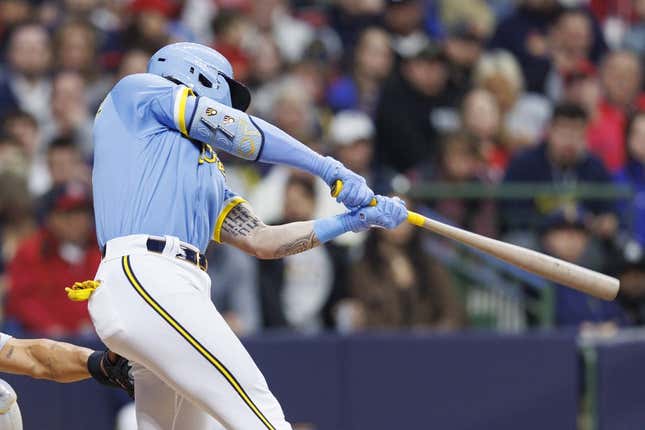 Milwaukee Brewers center fielder Garrett Mitchell may miss the rest of the season after an MRI revealed significant labral damage to his left shoulder
'Soccer fandom is full of gatekeepers' says Ted Lasso actor Brendan Hunt
The injury will likely require surgery, but Mitchell will seek a second opinion Monday. If the second opinion suggests the same course of action of surgery, he will have the procedure Tuesday.
On Tuesday night in Seattle, the 24-year-old Mitchell felt his shoulder separate on a slide into third base.
"Obviously, it's a freak accident," Mitchell said. "There's nothing I could've done to change what happened. If I had to redo that play 100 times, I would do it the exact same way. The amount of times I've had to dive into a bag is more times than I can count in my career, so I wouldn't change what I did.
"It's unfortunate it happened that way, but I wouldn't have changed what I did."
Mitchell remained in the game and made a throw to home plate the following half-inning that aggravated the injury.
Mitchell, 24, was off to a strong start in his first full season, hitting .259/.306/.466 through 16 games. Making his major league debut in 2022 with the Brewers, he has hit .286 with five homers and 15 RBIs in 44 games (33 starts)
--Field Level Media