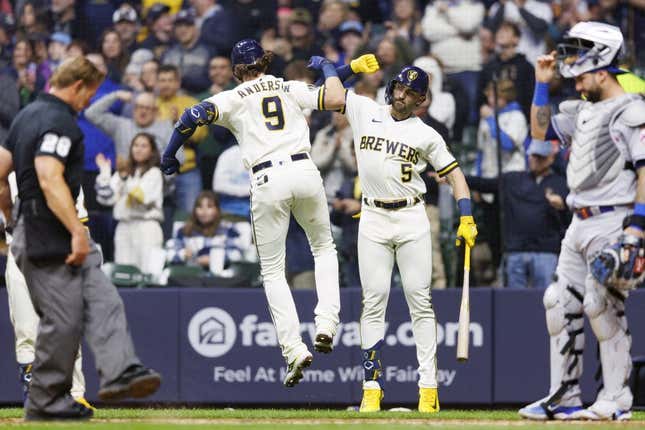 St. Louis right-hander Jack Flaherty will have the task of slowing down the red-hot Milwaukee Brewers when the Cardinals open their first road series of the season on Friday
Bass' ERA stinks, but not compared to who he is off the mound | Worst of the Week Countdown
Right-hander Brandon Woodruff (0-0, 1.50 ERA) is scheduled to start for the Brewers against Flaherty (1-0, 0.00) in the matchup of National League Central rivals. Both teams were idle Thursday
Milwaukee completed a home sweep of the New York Mets with a 7-6 comeback victory Wednesday on Garrett Mitchell's game-ending home run. The Brewers have won five straight since an Opening Day road loss to the Chicago Cubs, including 10-0 and 9-0 routs of the Mets this week
It is the first time since 2008 that the Brewers opened their home schedule with three consecutive victories
The Cardinals were on the other end of a sweep, falling in three consecutive games to the Atlanta Braves, including a 5-2 loss in the series finale Wednesday
Milwaukee's revamped, youthful lineup -- with rookies Brice Turang and Joey Wiemer, second-year speedster Mitchell, and newly acquired Brian Anderson -- has provided an offensive spark. Of the Brewers' nine home runs, five have been hit by rookies
Anderson, who signed as a free agent after six seasons with the Miami Marlins, has hit safely in all six games, while going 9-for-18 with three home runs and 10 RBIs. Wiemer, Turang and Mitchell all are hitting .300 or better. Mitchell has three home runs and Turang's first homer was a grand slam.
"That's what young players do," Brewers manager Craig Counsell said. "They take us all back to a time when we're just starting out, and that's for everybody a great time in your life, a great time in your career
"Just the way they play. They all can do so much on the field. They're not one-dimensional players. They're players that can do a lot. That means they can impact the game a lot and that's what they've been doing."
Woodruff, who went 13-4 last season with a 3.05 ERA, allowed one run on three hits in six innings in his first start, but did not get the decision in a 3-1 win over the Cubs. He is 8-1 with a 2.33 ERA over his last 19 starts dating back to last season.
Woodruff is 5-4 with a 2.74 ERA in 13 career appearances (11 starts) against the Cardinals. He was 2-1 with a 1.20 ERA three starts against them last season
Flaherty tossed five innings of no-hit ball in his first start, but issued a career-high seven walks in a 4-1 victory over the Toronto Blue Jays.
Against the Brewers, Flaherty is 3-6 with a 5.00 ERA in 16 appearances (starts), his most games against any team. He is 1-3 with a 5.84 ERA in eight starts at Milwaukee
St. Louis took two of three from Toronto to open the season before being swept by the Braves. In their first six games, the Cardinals allowed a combined 20 runs in the first two innings, including 13 against Atlanta
"I know we just got swept, but we played well as far as our at-bats," Cardinals manager Oliver Marmol said. "When you look at the starting pitching, obviously that's what we keep talking about and I think that will get better. Overall, I still like the way we went about playing those two teams.
--Field Level Media